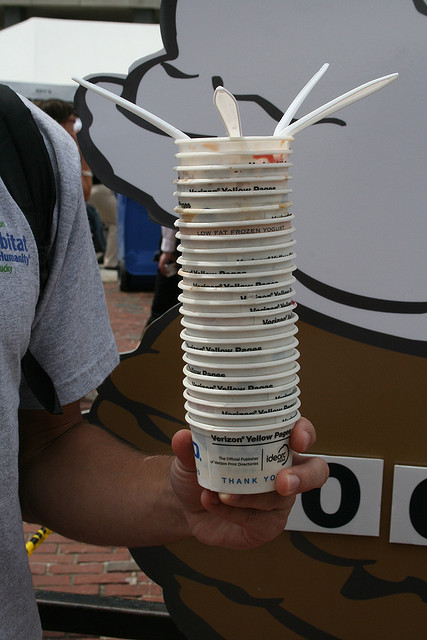 Looking for plans this month?  Why not give back while going out?  These fun events are the perfect way to give your social life the boost it needs while giving back to your community and raising awareness for important causes!  There are so many events taking place this month, and all of these events are the perfect way to enjoy an afternoon outdoors in the sun while helping others!
Jimmy Fund Scooper Bowl – This is an event that all ages can enjoy!  Stop by City Hall Plaza in Boston from Tuesday, June 4th –  Thursday, June 6th for this all you can eat ice cream event! Sounds good already doesn't it?  Not only can you fill up on ice cream, sorbet, gelato, and frozen yogurt you can eat, but there will also be live entertainment and a variety of activities for guests to enjoy!  The event is from noon – 8 PM each day, and tickets are $10 for ages 10 and up, $5 for children age 3-9, and children under 3 are free!  There are also passes available if you're planning on being in the area and want to stop by every day for an afternoon snack! Proceeds benefit the Jimmy Fund which funds cancer research and patient care at the Dana – Farber Cancer Institute, so stop by, fill up, cool off, and enjoy the day in Boston!
Massachusetts Parkinson Walkathon – Join the Massachusetts chapter of the American Parkinson Disease Association this Sunday, June 9th for their annual walkathon!  Proceeds from this event will benefit research approved by the APDA Scientific Advisory Board and the APDA Information and Referral Center network.  The walk is 3 miles and will take place at Reebok International Headquarters in Canton, and will be taking place rain or shine!  Registration begins at 11:15 AM and the walk begins at noon, bring the whole family because the more walkers, the more fun! You can register a team, or register as an individual walker and set your fundraising goal!  If you can't attend the walk, consider donating to this wonderful cause that aims to make a difference in the lives of the many people living with this disease!
Three Psychic Mediums Fundraising Event – If you're a fan of the supernatural, you'll love this event!  Head to Cagney's Pub in Quincy on Friday, June 14th for this night of spirit communication with three local mediums.  Tickets are $40 in advance, $50 at the door and proceeds benefit the Massachusetts Survivors Outreach, a local organization for victims of domestic abuse.  There will be a raffle to which every attendee will be given one free ticket, additional tickets cost $5 each.  This is a fun night out if you are a believer in the supernatural, and if you're not, maybe this event will change your mind.  Get your tickets while they last!
MetroWest Humane Society Yard Sale – For all of you shopaholics out there, stop by this yard sale at the MetroWest Humane Society in Ashland on Saturday, June 22!  Proceeds will benefit the shelter and the animals that reside there.  If you can't attend, consider donating an item for them to sell.  The drop off date for donations is this Saturday, June 8th from 10 AM – 1 PM.  There will be many items at this yard sale including cat related items, jar candles, household items, lamps, crafts, decorations, baking dishes, and much more!  Yard sales are fun places to come across unique treasures that would otherwise be thrown out, and are prime spots to scout out old furniture to refinish if you're into DIY crafts, the possibilities are endless!  If you're in the area be sure to stop by and check out what the shelter has, the animals will be very grateful!
All of these events are fun and easy ways to get out of the house and give back!  Which one will you be attending?  Be sure to let us know in the comments!
Photo By: ALaws