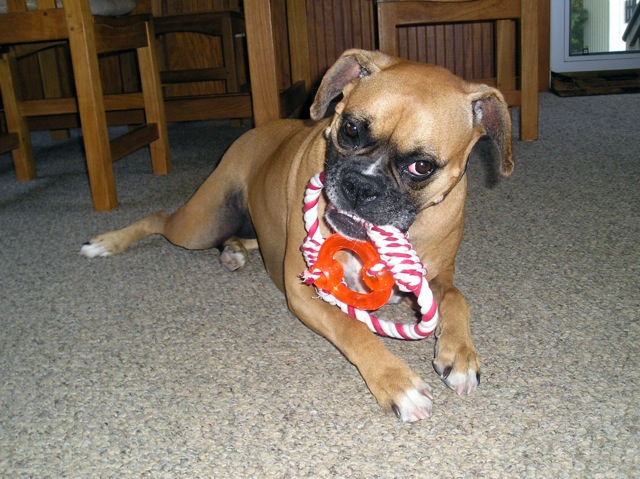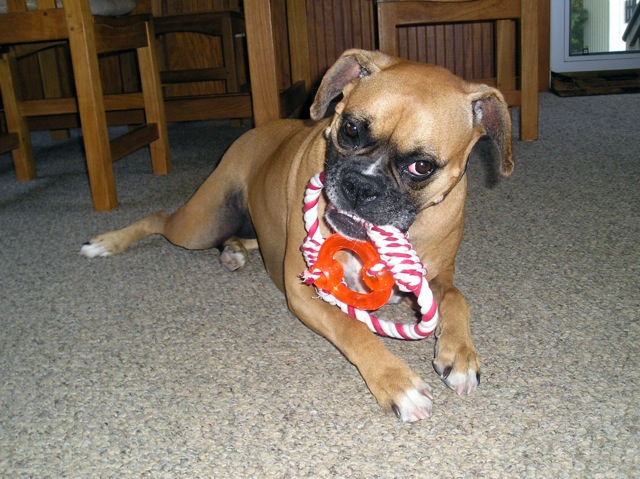 We're back at it again, for today's Furry Friend Friday I sat down with Roxie!  Roxie is a boxer who is entering her golden years, but that doesn't stop her from getting out and about!  Today she was nice enough to sit down with me and answer a few questions about her day to day routine.
Roxie, what is your favorite way to spend the day?
Well I used to be more active when I was younger, but I still love going for a ride in the car, shot gun of course!  Other than that my main interests are eating big meals, being around my family, playing with my fellow K9 friends, and sun bathing for a few hours.  What could be better?
Do you have a favorite toy?
My rope toy! I could play with that for hours on end if someone will play tug of war with me!  You may think that toys are just for puppies but us older dogs still like to play!
What about a favorite treat? 
CHEESE!  I am a cheese fiend and will do anything for it!
I'm sure as a boxer you are very brave, but is there anything that does scare you?
It's ironic that I am a boxer because my mom would tell you I'm a big baby.  Even though I look tough, loud noises make me jump.  Thunder is the worst though, it always gets to me!
Where is your favorite place to go for a walk?
I love to explore the woods near my house, there are so many things to smell and new sights to see!  If we don't go for a walk in the woods, I'm perfectly content to roam around my yard.  We have an electric fence so I can pretty much go wherever I please.  When I was younger I loved to dig up all of the flowers in our yard after running around for a bit, it got rid of all of my extra energy but my parents are glad that I stopped.
Do you have any health concerns?
I've been very fortunate in the past and didn't have many issues at all, however now that I am getting a little older the problems are starting to creep up on me.  I recently had an ear infection, staph infection, and then I pulled a muscle in my shoulder!  I am also becoming allergic to something, however it is still a mystery as to what it is so that will require some tests.  As you can see I have a few minor issues, but they racked up some major vet bills!
Unfortunately, Roxie does not have pet insurance.  Even though she had somewhat minor issues, they resulted in major vet bills which can be a financial burden for some.  Give us a call at MassDrive today and get a pet insurance quote for your furry friend!  There's no better feeling than knowing your four-legged friend is protected against the unexpected!