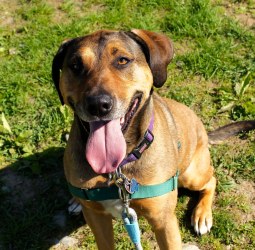 We're back with another Furry Friend Friday interview!  Today I got to chat with Lena, a 5 year-old lab/shepherd mix up for adoption at the Scituate Animal Shelter!  Lena was surrendered by her previous owner and has been waiting for her forever home for a few months now.  This sweet girl is very active and would be the perfect companion for a young couple!
So Lena, what is your favorite way to spend the day?
I LOVE to be outside more than anything!  I live for adventures and walks, getting out of the shelter and being able to smell the fresh air is the best feeling, I can't wait until I find my forever home and can go outside and explore all the time!  I also like to go for rides in the car, as long as we aren't on our way to the vet!  I love long rides and don't even get car sick!
It sounds like you have a lot of energy, do you have a favorite place you like to go for walks so you can burn it all off?
Well the shelter here is in Scituate so we are very close to the beach!  The staff bring me down there once in a while and I can't get enough,  I love the way the ocean smells and the feeling of sand between my toes, it's a lot nicer to run on than pavement!  We also have some trails in the woods here behind the shelter and that is fun too, the woods have so many things to smell and I love getting to hear the birds chirping!
Do you have a favorite toy to play with?
The only toys we have here in the shelter are tennis balls and frisbees and those are a lot of fun! We don't get other toys because the staff doesn't want us to get too possessive or protective of our toys around other dogs.  I think I would enjoy a nice rope to play tug of war with or a squeaky toy though, maybe when I get my own home I will have a bunch of toys that are all for me!
What about any fears?
Well, I'm not saying I'm afraid of other dogs, I just don't like them.  We don't really get along very well, at least not here in the shelter.  The other dogs here are always barking and it drives me crazy!  Can't a girl get some peace and quiet?  Maybe once I settle into my own home I could deal with another pet, but it would have to be the right one and I'm still a little weary of the idea.  I like all of the attention on me!
Lena, why do you think pet insurance is important for all pet owners?
Well life can be pretty unpredictable, after living with a family of my own, I never expected to wind up in a shelter!  Who knows what else could happen when you least expect it, better to be safe than sorry!
How many of you pet owners out there have ever had an unexpected vet bill throw a wrench into your monthly budget?  It always seems to happen at the worst possible time too, but with pet insurance you don't have to worry about getting your pet the care they need because they will be covered!  Call us at MassDrive for a pet insurance quote today!