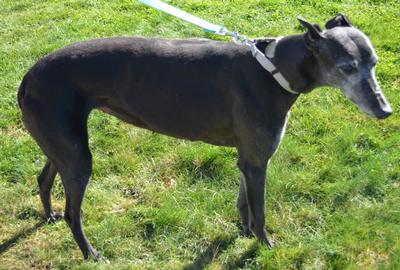 Happy Furry Friend Friday everyone!  Are you as excited for the long weekend as we are?  We know someone else who's excited!  Meet Wonder, this cute girl is up for adoption at Greyhound Friends, Inc in Hopkinton.  We can't help but wonder why Wonder doesn't have a home yet, she's been at the shelter for about three months and is ready for her forever family!
So Wonder, what is your favorite way to spend the day?
Well, as an older gal I like to relax a lot.  I can spend a good amount of time snoozing around but once I get outside, I feel like a puppy again!  For an 8 year old, I'm still pretty fast, I was a racing dog after all.  I also love being cuddled by people, I'm very sweet (so I've been told) and love to be petted.
What was it like being a racing dog?
Well I was actually all the way in Kansas during that part of my life, and I didn't love it.  I was mainly used for breeding and was a great mom to all of my puppies.  The staff at the shelter say I still have that motherly nature about me.  As sweet and gentle as I am, I don't do well with small animals.  It's not that I don't like them, I just can't resist chasing them, can you blame me?
Do you like to go for walks?
Oh I love being out and about!  As I said, I can sleep a lot but when I am out I am pretty active for my age, I like to stay fit and work on my girlish figure.
What about toys?
Toys are fun, my favorites are those squeaky ones, I can't get enough!
Is there anything you're afraid of?
Nothing comes to mind, I've seen a lot in my days and so it takes a lot to rattle me.
What do you think would be the perfect family for you?
I'm a very sweet girl and could fit in anywhere, as long as there are no small animals!  The staff here also aren't too sure how I would be around small kids, and I have to say I'm not either since I've never met too many of them!  I know I would be good with older kids in their teens and adults of course.  My age means I'm not too active but I still like to get out and about, so I guess you can say I'm moderately active, so a family that fits in line with that would be perfect!
Why do you think pet insurance is a good thing for all pet parents to consider for their furry friends?
Well as an older gal, you never know what might come up, and it's always good to be prepared!  I know that when I finally find my forever home, I'll love my owners like family, and I hope they would feel the same about me and protect me like any other member of their family!
Wonder hasn't lost a step!  She's a smart lady and looks pretty good for her age if you ask us!  She's right when it comes to pet insurance, it will help you prepare for the unexpected and avoid a hefty vet bill should your furry friend get into an accident or get sick.  Call us for a free quote and take the first step in protecting your furry friend!