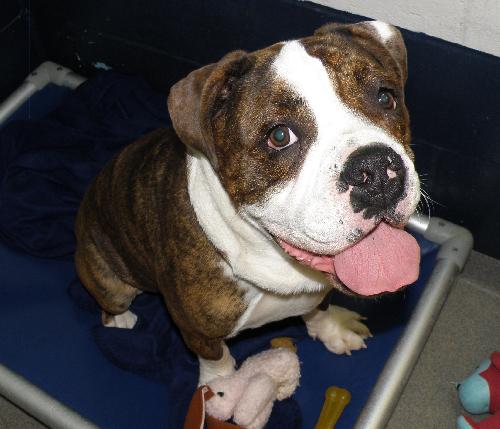 It's the first Furry Friend Friday interview of spring!  Are you as excited as we are the spring is finally here?  Louie is very excited!  He's a 1 year-old Beabull up for adoption at the Sterling Animal Shelter in Sterling.  What's a Beabull you ask?  It's a beagle and bulldog mix, which is pretty rare if you ask us.  If you think Louie could be your new best friend stop by and pay him a visit!
So Louie, what's your favorite way to spend the day?
Well I'm still a puppy so I LOVE to play!  I'm a big boy though, I weigh 70 pounds but I'm a gentle giant.  I love people, but since I'm so big I would need to be with people that know how to handle a big, energetic pup like me.  One of my favorite things to do is to go outside and run, I can go pretty fast but I get tuckered out pretty easily.  Once I start running I don't last too long after and then I'm ready for a nap.
Do you have a favorite toy?
I love all toys!  I'm very gentle with my toys though, I don't rip them apart or anything.  I also have a blankie that I love to sleep with.
Is there anything that scares you?
No, I'm really just a goofball at heart and am always happy.  I don't scare too easy at all so I think I would make a great watch dog!
What do you think would be the perfect family for you?
Well like I said I'm a big boy and sometimes I forget my own strength, so I would need to go to an experienced dog owner.  Another thing is that I would probably need some leash training, so a family that would be patient and maybe bring me to a training class would be ideal.  I'm also very good with other dogs as long as they're the same size as me and love to play.  I probably wouldn't be good with small children either, not because I don't like them, I just wouldn't want to accidentally knock them down.
Louie, why do you think pet insurance is a good thing for all pet parents to consider?
Well I'm still young, but I've already been to the vet a few times in my short life, for check-ups, shots, and things like that.  I'm guessing that as the years go on I'll have to keep going to the vet and at some point may even get sick or have an accident of some kind where I would need vet care, as will all pets.
Louie is right, most pets will need to go to the vet at some point for either an injury or sickness, and having pet insurance is a good way to be prepared for any unexpected health costs for your furry friend.  Call one of our agents today for a free quote and take the first step to protecting your furry friend!