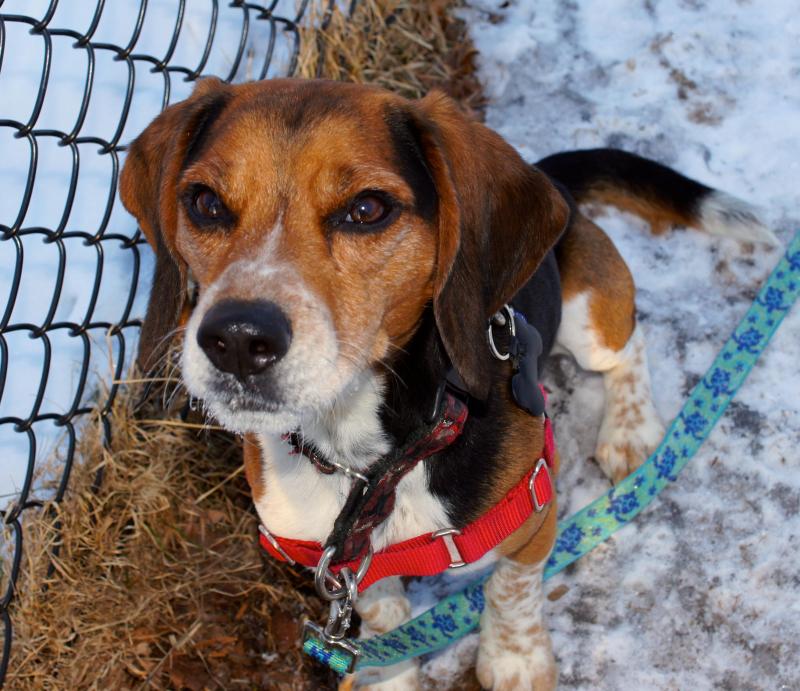 Ready for a Furry Friend Friday interview?  Lincoln has been excited for his turn in the spotlight all week!  This 6 year-old boy is energetic, friendly, and ready for his forever home.  He's currently up for adoption at the Scituate Animal Shelter and has been there for about a month.  If you think Lincoln could be your new best friend pay him a visit!
So Lincoln, what's your favorite way to spend the day?
Well I'm very energetic, so I love to stay active.  I like playing outside, going for walks, exploring the great outdoors, and just trying anything fun, I'm very adventurous! You might think that because of my age I might start to slow down at this point, but not me.  I'm still young at heart and am willing to prove it!  Stop by and pay me a visit and you'll see what I mean!
Do you have a favorite toy to play with?
I absolutely love to chase balls!  I'd have to say those are my favorite toys, they're so versatile, they can bounce, roll, or get thrown.  They're basically a jack of all trades compared to other toys.
What about a favorite place to walk?
We're very lucky here at the shelter, we have a ton of volunteers that come to walk us every day.  They bring us outside to these fields next to a bunch of woods and I love it there.  I get to smell the breeze, and become one with nature, it's the best.
Is there anything that scares you?
Nope, I'm not afraid of anything, at least nothing comes to mind right away.  Beagles are a pretty tough dogs, we don't scare too easy and make great watch dogs.
What do you think would be the perfect family for you?
Well I love all adults, so I would be great in a home with an active couple, or even a family with older children.  I love playing with kids, but would probably be better with bigger ones that are 10 and up.  I also get along great with my fellow canines, so if you already have a dog I'm sure we would become friends right away!
Lincoln, why do you think pet insurance is a good thing for all pet parents to consider?
Not only are beagles tough, we're smart too, and I can spot a good deal when I see one!  Pet insurance seems smart to me because it's inevitable that any pet will need to go to the vet, and if something's wrong with us, the bill will be pretty big if you don't have pet insurance.
Lincoln is right, inevitably most pets will have to go to the vet because they're having a health issue or had an accident that injured them.  The bills associated with injuries and illnesses can climb pretty high pretty fast, but pet insurance will allow you to make a small payment each month so that your pet can be covered if they need to go to the vet, and you won't need to break the bank.  Call one of our agents today for a free quote and take the first step on the road to protecting your furry friend!