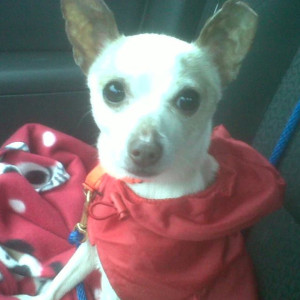 Happy Furry Friend Friday!  Who's ready for their weekly does of cuteness?  We know we are!  Meet Chico, a feisty 3 year-old chihuahua up for adoption at Northeast Animal Shelter in Salem.  Chico's been in the shelter for a few months now and is patiently waiting for the perfect family for him!
So Chico, what's your favorite way to spend the day?
I'm a man of many interests, but I'd have to say my favorite thing to do is just be around my favorite people, and there aren't many of those.  I'm very selective with who I give my affection to, but if you're one of the lucky ones you'll never find a more loyal friend.  If I could, I'd stay with my favorite people all the time, I love sitting on their laps and going for rides with them in the car, and the best part is that I'm travel size!
Do you have a favorite toy to play with?
I like to play ball sometimes but other than that, I'm not very interested in toys.  I'd much rather get a nice head scratch while I lounge on the couch!
Is there anything that scares you?
Well I'd say I get nervous when I'm around new people, if they come at me too fast and I don't know them it makes me jump and I don't like it.  I also get overwhelmed in crowds, like if my people were having a party at their house I'd rather be upstairs in the bedroom and have some space to myself.  I also don't like being in a crate or anything, I get very anxious and would rather be free to roam around the house.
What do you think would be the perfect family for you?
I would prefer to be in a home that's pretty quiet, and with someone who can be home a lot so we can keep each other company.  If I found someone who was retired that would be perfect! We could have breakfast together and then watch some TV, I'm a fan of "The Price Is Right", and then run some errands together!  Other than that my only requirement is to be in a home with no kids, sometimes they can make me nervous because I like my boundaries and personal space before I get to know someone, and kids aren't always good at that.
Chico, why do you think pet insurance is a good thing for all pet parents to consider?
Well, dogs of all ages can get sick or have an accident unexpectedly.  For example, I'm a young guy but when I first arrived at the shelter I had a skin condition on my ears, and luckily the staff here were able to get it cleaned up but if I had owners that had to pay for it, it would have been pretty costly.  Pet insurance seems like a good thing because you only have to pay a small amount each month, to make sure your pet can get the health care they need if they get sick or hurt.
Chico's a very smart pup, and is right when he says vet treatments can be costly.  Pet insurance is an affordable investment that will help you get your furry friend the care they need without draining your savings.  Call one of our agents today for a free quote!