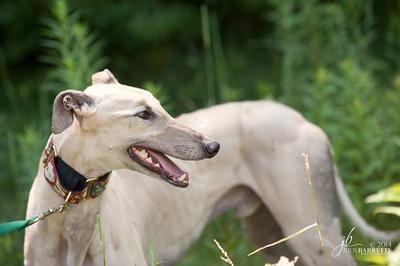 No, he can't fly, but today's Furry Friend Friday interviewee certainly is majestic!  Meet Eagle, a 5 year-old greyhound up for adoption at Greyhound Friends, Inc in Hopkinton.  This handsome guy has been in the shelter for about 3 weeks now, and is ready to find his new best friend!
So Eagle, I hear that you came a long way to find your forever family, is that true?
Yes, you're right!  I'm originally from West Virginia, I used to be a racing dog but that life just wasn't for me.  I was lucky enough to hitch a ride up north and ended up in Hopkinton with the wonderful people at Greyhound Friends, now I just have to sit and wait for the perfect family!
What's your favorite way to spend the day?
Well, I like to start my day with a nice breakfast, it's the most important meal of the day!  I get a nice helping of kibble, mixed with can food, rice, and a little bit of warm water, I like to call it the breakfast of champions!  After that I like to go for a walk, take a nap, run around a bit, play with my toys, maybe take another nap, and then hang out with my favorite people of course!
Do you have a favorite toy that you like to play with?
I love stuffed squeaky toys, they're so much fun I love to chew on them and can even toss them up in the air!  It's pretty impressive if I do say so myself.
Is there anything that scares you?
Well I like to think of myself as a tough guy, but I will admit that loud noises tend to make me nervous, like thunder, sirens, and things like that.
What do you think would be the perfect family for you?
Well, I do have a medium activity level, so I'd say I'd like to go with a family that can bring me for walks and maybe even has a fenced in yard that I can run around in.  I'm also very social, I love other dogs so if you already have one I'm sure we would become best friends, I can't say the same about cats though.  I'm great with kids, very friendly, and would be fine if you had to leave me to go to work.  I could really fit in anywhere!
Eagle, why do you think pet insurance is a good thing for all pet parents to consider?
Well, as pets, our humans  are the only family we have, so we like to think that you consider us to be part of the family as well.  Shouldn't we be protected like the rest of the family?  Not to mention, it sounds like pet insurance can keep you from having to pay a huge vet bill if your pet were to get sick or have an accident, so why not invest in pet insurance?  You'll be protecting your pet and your wallet!
We couldn't have said it better ourselves!  Eagle is a very smart boy, and he knows how important pet insurance can be when it comes to protecting your pet and your wallet.  Call one of our agents today for a free pet insurance quote and take the first step of protecting your furry friend against the unexpected!