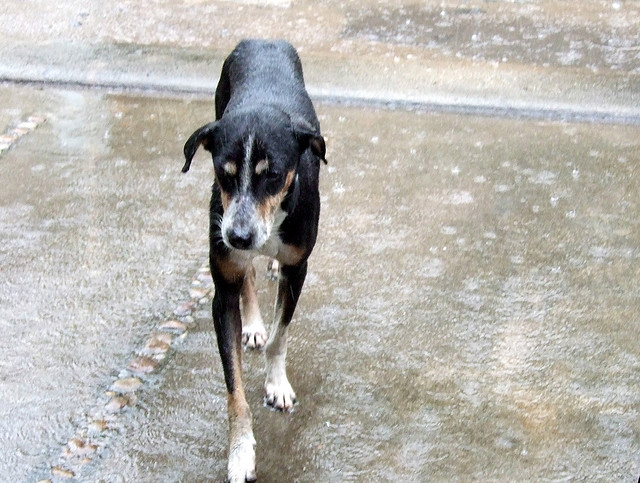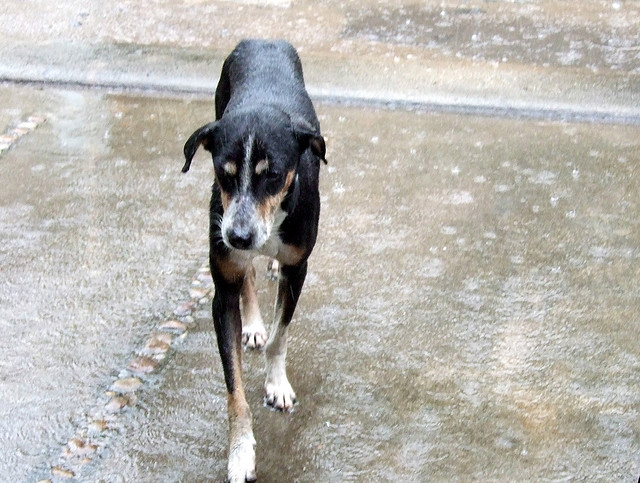 Although it is rare to experience a natural disaster here in Massachusetts, as we saw last summer with Hurricane Irene, anything is possible.  That's why it is more important than ever to make sure that your pet is protected and prepared for the next storm.  We've found some great animal safety tips from the Federal Emergency Management Agency (FEMA) to ensure that you and your furry friend are ready to weather the storm together.
Animals can often sense a storm on the horizon and may try to isolate themselves from it, before and during a storm make sure pets are inside to prevent them from running away.
Make sure that your pet has their collar on with tags firmly attached should you get separated.
Keep a "pet survival kit" on hand in case you have to quickly move from your house.  It should include enough food for three days (in an air-tight container), enough water for three days, bowls, medicine, first aid supplies, leash, travel crate, kitty litter, litter box, paper towels, cleaning supplies, newspapers (for sanitary purposes), and familiar items such as toys, treats, and blankets which can be comforting during times of stress.
Keep important documents such as adoption papers, medical records, vaccination history and registration in a water-proof container.
If you have cats and dogs, separate them during a storm.  Even if they typically get along, anxiety caused by the storm can cause pets to behave out of their typical character.
Have a picture of your pet on hand for identification purposes in case you get separated.  If you are evacuating, write your evacuation destination down and attach it to your pet's collar which will also be useful if your pet does get lost.
During a disaster situation, feed your pets canned or moist food so that they don't have to drink as much water.
Plan ahead: if you know that you are going to have to evacuate, work with your local animal control department, animal shelter, or emergency management office to get tips and advice on where you can bring your pet.  Unfortunately, not all evacuation shelters are equipped to take pets as well, however you can research pet-friendly hotels and motels in your area.
In the days following a natural disaster, make sure that you accompany your pet and leash it whenever it is outside.  Familiar areas may have a different scent which can confuse your pet, and new dangers may be introduced to the area such as fallen power lines, or other animals that would not typically reside there.
The absolute most important piece of advice highlighted by FEMA is to take your pet with you if you have to evacuate!  Pets are not likely to survive on their own and if by chance they do survive, often times they are lost and difficult to find.  If you can not take your pet yourself, work something out with family, friends, or neighbors who may be able to help.  Leaving a pet behind should be your absolute last resort and is not recommended at all.
Photo By: indi.ca