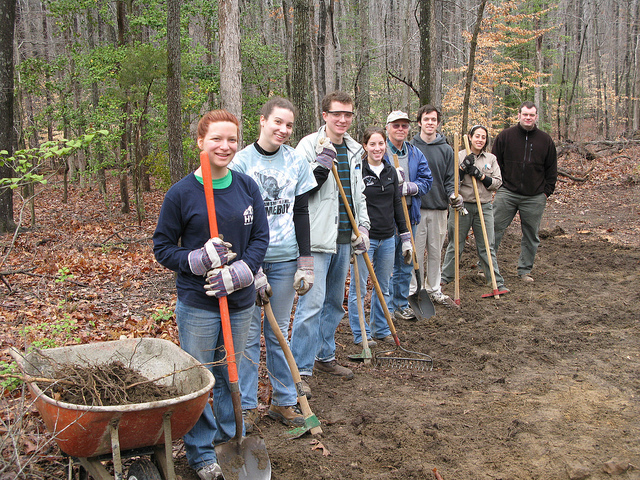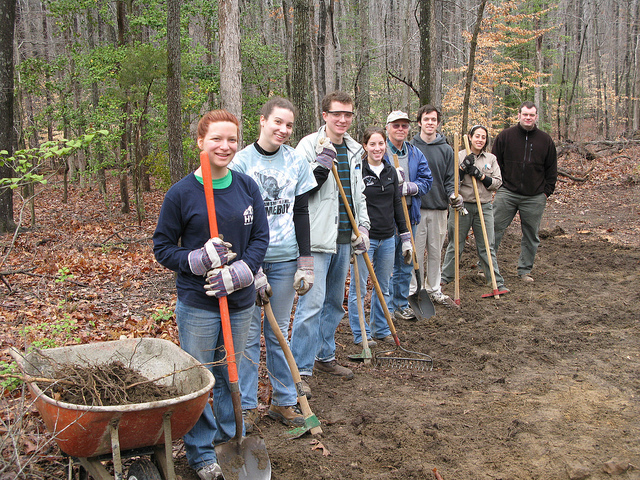 Giving back is something we should all do to ensure that our community is as strong as it can possibly be.  When you donate time or money to a good cause, not only does it feel good, but you are improving the lives of those around you and building a stronger connection to your environment.  There are many additional benefits that come from volunteering, such as exposing you to different social situations.  Meeting new people who are passionate about the same cause is a great way to make new friends and contacts.  It's also a great social outing if you are looking for something to do.
So, what type of volunteering is right for you?  There is something for everyone these days.  If you love animals, there are shelters all across the state looking for volunteers to walk dogs, clean cages, feed, and maintain their animals.  If you love being outdoors, especially in the summer, check out National Parks, and local monuments who may be seeking volunteers to clean up or maintain their land.  Love spending time with kids?  Offer to volunteer to coach a sports team or  an after-school program.  Senior centers, libraries, and places of worship are also great places to check out.
If you want to do something on your own, there are always ways to help others.  For example you could start a food drive to benefit a local homeless shelter.  It doesn't have to be anything fancy, just type up a letter explaining what you are doing and who it is benefitting, and staple it to a brown bag.  You can leave the bags in your neighbors mailbox and just let them know when you will be back to pick up their donation.  Another thing to do on your own?  Put together goodie bags for soliders overseas.  Many of them need basic supplies such as shampoo, soap, toothbrushes, and Q-Tips.  Baby wipes are also great things to send over as well as a few small treats like gum or candy.  If you ask around at local hotels, many would be willing to donate such items for a good cause.
If you're not sure where you would like to start, check out some of these volunteering opportunities with organizations across Massachusetts.
Greater Boston Food Bank – The Greater Boston Food Bank is working towards ending hunger in eastern Massachusetts.  It is one of the largest food banks in the country and last year they donated over 35 millions of pounds of food, which they could not have done without the help of their 14,000 volunteers.  Their mission is to provide at least 1 meal per day to those in need by 2013.  Volunteers spend their time packaging, sorting, and inspecting items in the warehouse, which are all critical functions to ensure that the food is distributed in a timely manner.
Horizons For Homeless Children – This organization hopes to stabilize families and help break the cycle of homelessness that we are faced with on a daily basis.  They teach children how to read, share, and explore their surroundings while also assisting their parents in getting on their feet again.  They provide programs for parents to get their GED, take college classes, and gain job training.  Volunteers act as Playspace Activity Leaders (PALs) and help children learn and grow through play. Volunteers are required to attend a training session and commit to two hours of volunteer time each week for a 6 month period.
MSPCA – For all of you animal lovers, the Massachusetts Society for the Prevention of Cruelty to Animals (MSPCA), is looking for volunteers in multiple categories.  The need dog walkers, cage cleaners, administrative assistance, and people to simple spend time with and take care of the animals.  You can also become an Advocacy/Legislative Affairs Volunteer, meaning you can help promote and support animal friendly legislation.  For anyone who loves animals, this is an ideal chance to make a difference in their lives.
Don't wait to start giving back!  There are countless organizations across the state that can use all of the assistance they can possibly get.  Find a cause that you are passionate about and learn how you can help!
Photo By: vastateparkstaff