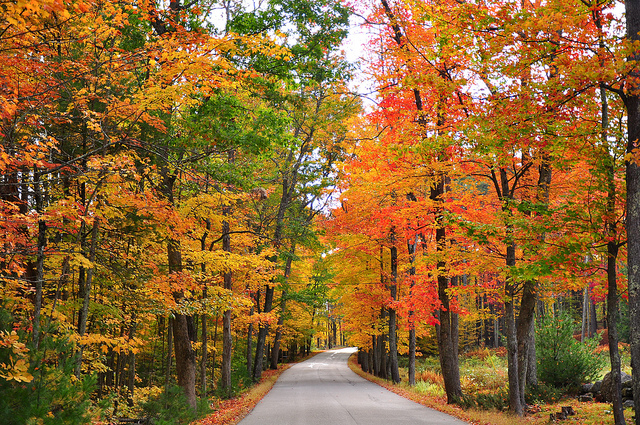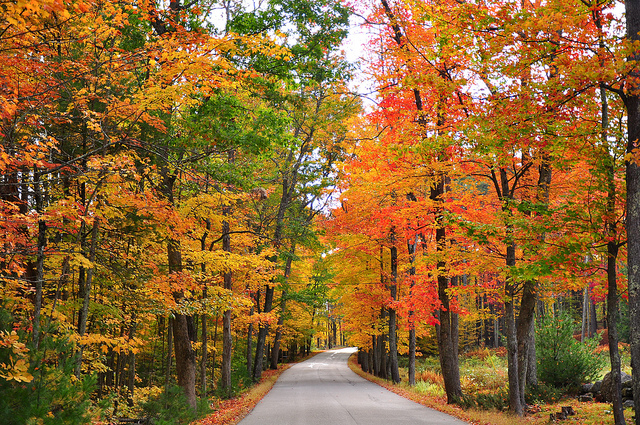 The time for apple picking, pumpkin carving, cider drinking, and crisp fall breezes is right around the corner, and what better way to celebrate than by taking a scenic drive through New England to admire all of the beautiful foliage?  It may be a bit early right now, but the leaves are already beginning to change and it won't be long before the trees are completely red, yellow, and orange.  Get your weekend plans in order and organize a few day trips to some of these stops, the views are breathtaking and there are other fun attractions to check out along the way!
The Berkshires – This is THE place to be if you want to experience anything and everything related to fall.  The Berkshire mountains span across western Massachusetts and offer one of the most scenic rides in New England. Take a ride to the top of Mount Greylock along New England's first official scenic road, the views can't be beat!  It is Massachusetts' tallest peak (3,491 ft) and also features foot trails for hikers.  That's not all that the Berkshires have to offer, there are many fall themed attractions including hiking, apple picking, pumpkin picking, or try some hard apple cider after a brisk walk outside.  If you're there from September 22-30 check out the Northern Berkshire Fall Foliage Festival in North Adams, MA.  There are events taking place throughout the week including crafts, farmers markets, parades, and numerous other events.  What better way to spend a fall day?
White Mountains, NH – The White Mountains are spread across New Hampshire and have many winding roads that will bring you on a beautiful ride.  Drive up Route 16 to North Conway, a small town in the heart of the White Mountains which features small country stores, outlet shopping, and last but not least the Conway Scenic Railroad which offers roundtrip train rides where you will experience all of the beauty that the White Mountains has to offer.  Nearby is the infamous Kancamagus Highway, a windy road with many scenic viewpoints along the way that will bring you to Lincoln, NH home to Clark's Trading Post where they train native black bears to recycle, ride segways, play basketball, and entertain guests of all ages.  Franconia Notch State Park is also nearby and is the perfect place to get in touch with nature and go for a hike.  This ride is a little over 2 hours from Boston but has some of the most colorful and beautiful foliage in New England, we definitely suggest you take a drive up north this fall!
Green Mountains, VT – If you're looking for a leisurely, rustic getaway this is your chance.  The Green Mountains in Vermont are one of the most popular areas to view fall foliage in New England.  The 400,000 acre Green Mountain National Forest follows Route 7 and brings you by major skiing areas such as Mt. Snow, Killington, and Sugarbush, all while taking you through some of the most scenic nooks and crannys that Vermont has to offer.  Don't have any particular sights in mind?  Why not branch off down a road you have never been down before (only if you have GPS) and see where it takes you?  There's nothing more fun than getting lost in nature, you really appreciate your surroundings and if you have nowhere to be it's a lot of fun!  For those of you that are feeling really adventurous, the Ben and Jerry's Factory is about a two hour drive from here and hosts tours daily.
These scenic drives all promise beautiful sights, fall foliage, and exciting activities and tourist stops to keep you entertained.  So pack up the car and hit the road, peak foliage season is right around the corner!
Photo By: kimberlykv