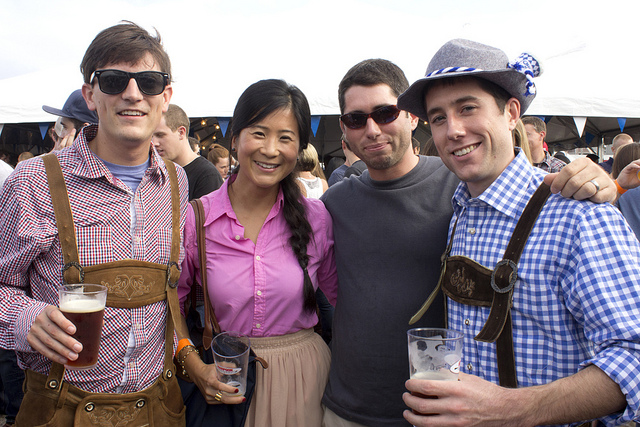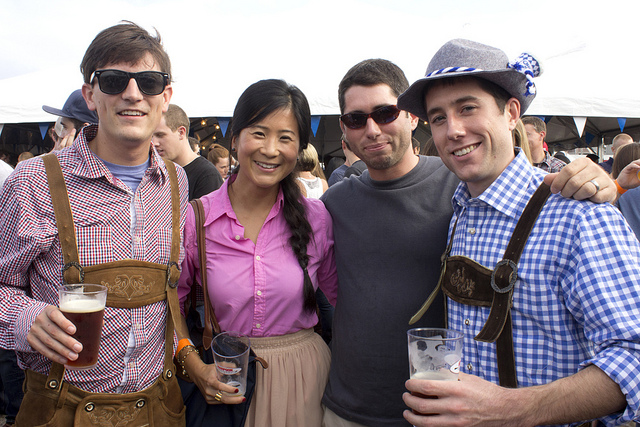 This Saturday, September 22 marks the first day of fall!  We know you're excited, what's not to love about the cooler weather, beautiful foliage, and pumpkin flavored coffee?  That's not all we're celebrating this season, there are events taking place all across Massachusetts during the fall season that are celebrating everything from pumpkins to beer to life in general, all of them are tons of fun and most of them have food and entertainment, what's not to love?
The Big E – The biggest fair in New England is back!  It began on September 14th and goes until September 30th in West Springfield, MA.  The gates open at 8AM every day but most buildings open at 10AM.  You name it, they have it at the Big E.  Animals, parades, crafts, concerts, butter sculptures, rides, shopping, entertainment (Billy Currington and Alan Jackson are upcoming performers), and fried food that can clog the healthiest of arteries, you won't want to leave.  With over 141 options for food, you definitely won't go hungry, especially if you sample the Craz-E Burger, which is a bacon cheeseburger between two halves of a glazed donut!  Tickets are $10 for children between ages 6-12, and $15 for adults, children under 5 are free, unfortunately there is no free parking but they have lots on site that cost $10 and there are additional private facilities in the area where prices vary.
Life Is Good Festival – Not only does this festival sound like so much fun, it benefits a worthy cause as well.  This two day festival (September 22nd and 23rd) features three stages where nationally known musical talents such as Dave Matthews, Michael Franti, Eric Hutchinson, and Sara Bareilles will be performing.  The goal of the festival is to celebrate music and optimism while also raising money for the Life Is Good Playmakers, an organization that helps kids overcome violence, poverty, and illness.  The event has many activities in addition to the musical performances, there will be a petting zoo, face painting, an obstacle course, many different races, and much much more.  It takes place at Prowse Farm in Canton, MA and each day the gates open at 11 AM and the festival ends at 9 PM.  Tickets for the Sunday show are sold out but you can still get tickets for Saturday!  Adult tickets are $65 and children's tickets cost $20, this event is for a great cause and ALL proceeds benefit the Life Is Good Playmakers.
Northern Berkshire Fall Foliage Festival – We mentioned this event in our last blog on the Best Fall Foliage Drives in New England, but it sounds like such a great time we had to give it some more attention.  Beginning this Saturday, September 22nd, the event kicks off with a leaf hunt, farmer's market, arts and crafts festival, and a bluegrass festival.  On Sunday, September 23rd there is a children's road race and fair which is the last event until the Festival begins again on Thursday, September 27th.  From there, events include a ziti supper, children's parade, farmer's market, free family concerts, a Fall Foliage Dance, and even a parade for your four legged friend, followed by a free pet psychic reading on the common!  Don't miss the all you can eat breakfast on Sunday, September 30th which only costs $6 for adults and $5 for children!  The event closes out with a Fall Foliage parade celebrating the beautiful season that is upon us.  This is the perfect family friendly event that will entertain everyone in your group, even your pet!  Prices vary for different activities but most are budget friendly.
23rd Annual Harpoon Octoberfest – This is Boston's biggest German style Octoberfest and it is taking place during the last weekend in September, Friday the 28th and Saturday the 29th.  Happening rain or shine, the doors open at 5:30 PM on Friday and close at 9:30 PM although the event goes until 11 PM.    On Saturday they open at 2 PM and close at 7:30 PM, and the event goes until 9PM that night.  Stop by for some traditional German food, listen to the German Oompa bands, and of course have a beer!  There are multiple ways to get to the brewery; there's a shuttle leaving from the South Station area and this is FREE, you can also take the Silver line, SL2 or SL3 and get off at Harbor street, and finally there is public parking across from the Brewery for a fee.  The cover charge is $20 and guests receive a souvenir Pint Cup and a drink ticket, however food and additional beer is not included in this price.  This event is 21+ and CASH ONLY, the bar has a wide selection of Harpoon and UFO beers for $5 a pint.
These events all sound like a great time and the perfect way to celebrate fall!  What could be more festive than a candy apple at the Big E or a celebratory drink from the Harpoon Octoberfest?  Take advantage of these events, all are outdoors and give you the perfect opportunity to get out and enjoy this beautiful weather and season before a cold front moves in!
Photo By: Dinner Series