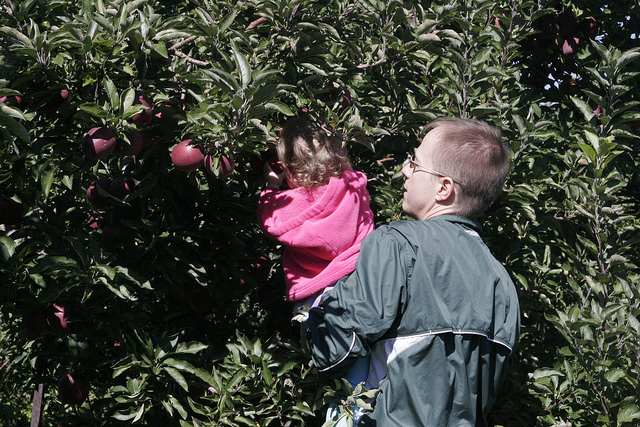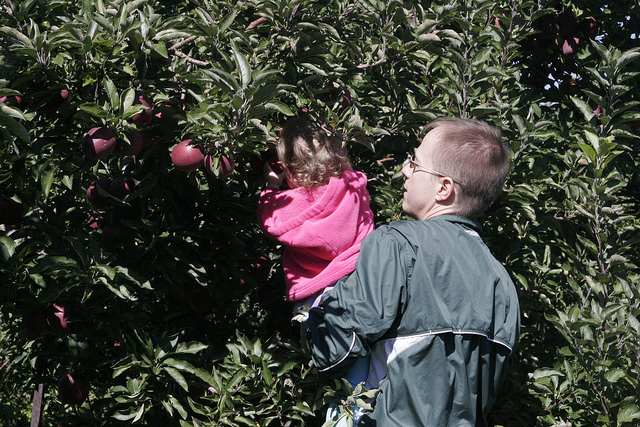 Everyone looks forward to fall, the cider donuts, hay rides, scarecrows, hot chocolate, and of course apple and pumpkin picking.  These apples and pumpkins become the key ingredient in many fall themed recipes and activities.  So whether you're baking some apple crisp or carving the best jack-o-lantern on the block, you want to make sure you have the best of the best.  These farms all offer pumpkin and apple picking and have numerous other activities to keep everyone entertained.
Cider Hill Farm – This energy-efficient farm prides themselves on their respect for the environment and the many programs they have in place to maintain it.  They strive to be as environmentally friendly as possible and have their own wind mills, compost systems, and bee hives on the property.  You can even observe these bees from their farm store while you dip some apples in caramel, enjoy a cider donut, or sample one of their 65 varieties of apples.  They also have their own line of jams, jellies, and apple crisp mixes in addition to their already impressive bakery where they utilize their own crops to bake fresh pastries daily.  Of course the main attraction during the fall is the apple and pumpkin picking, and there are plenty of options and varieties to choose from. While you're there take a hay ride or feed some of the goats and chickens that reside on the farm.
Hilltop Orchards – Take a ride out to Hilltop Orchards in the Berkshires this weekend.  Located in Richmond, this orchard is also home to the Furnace Brook Winery, where they produce award winning wines as well as Johnny Mash hard cider.  Guests over 21 can enjoy a free wine tasting and try an additional 5 wines for $5.00.  Take a hayride through the orchards and pick your own apples, there are 26 types to choose from!  Their Farm Winery Store has fresh fruit and baked goods for sale, as well as pies, apple cider donuts, and their home made fruit preserves.  In addition to these activities, there are multiple trails on the property to hike on your own, or take a guided hike or bike trip.
Honey Pot Hill Orchards – This farm in Stow is a great spot to bring the family to.  Not only do they have typical activities such as apple and pumpkin picking, but they also have three different mazes to explore.  The biggest maze, known as the Green Monster Maze is 1.5 miles and takes about an hour to complete.  It costs $11.95 for those over 13 and $7.95 for ages 5-12, children under 5 are free.  This fee covers your entrance into the Mini Monster Hedge Maze and the Tunnel Maze (ages 4-10) as well.  After wandering through the maze take a scenic hayride and pick your own apples.  They have over 12 varieties to choose from, including class MacIntosh, Cortland, Red Delicious, and much more.  Apple picking is expected to go through October 21st and there are still plenty of apples to pick.  Choose from the thousands of pumpkins available in their 12 acre patch, and on weekends take the kids to visit mascot Henry the bear!  There are farm animals to observe including ducks, bunnies, roosters, and goats, as well as classic fall staples such as apple cider, caramel apples, and cider donuts for sale so you won't go hungry.  For those of you looking for a heartier lunch the grill is open and is cooking up hamburgers, hot dogs, and chili.
Smolak Farms – Located in North Andover, this farm has enough going on to entertain you for the entire day.  There are two apple orchards to choose from, one featuring your standard macintosh and cortland apples, and the other has a wide variety of rare apples, which makes them a bit more expensive.  There is also a pumpkin patch that sits right on a large pond, which makes it the perfect fall background for a photo op.  After you work up an appetite in the orchards, head over to the farm stand for one of their cider donuts!  Trust us, there is a reason why the line is so long but it's worth the wait!  They also have candy apples, ice cream, and various other pastries for sale along with lunch specials and sandwiches baked on their fresh home made bread.  After you eat, bring the kids over to see the reindeer, goats, hens, cow, llamas, alpaca, and multiple different types of birds.    This farm has everything you love about fall and more, stop by before the apples get picked over!
Apple picking season came early this year, and has already ended at many farms in the area!  Take a drive with the family this weekend and stop by one of these orchards before they are picked over, it's not every day that you can take a drive and enjoy the crisp fall air while taking in some classic New England foliage!
Photo By: madgerly