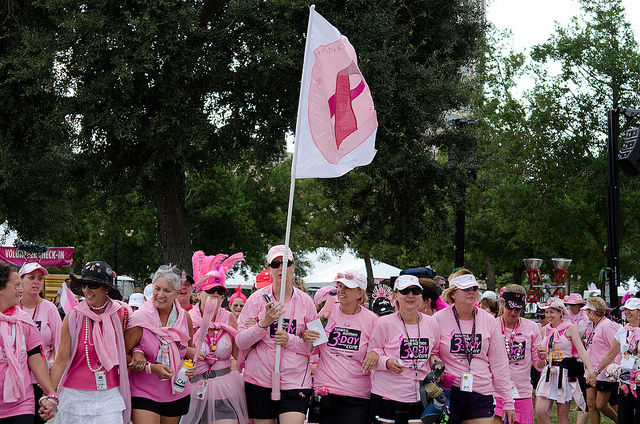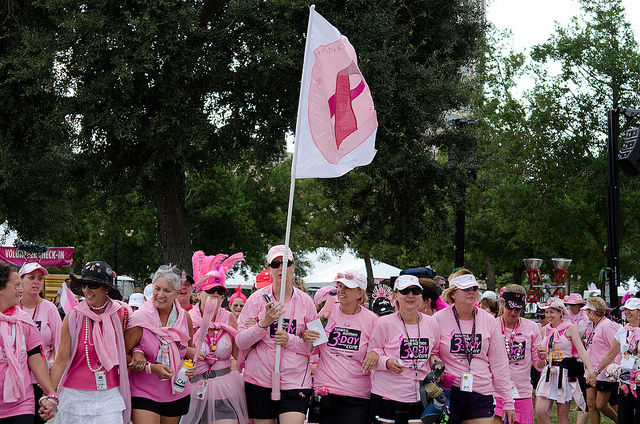 As many of you already know, October is breast cancer awareness month.  What better excuse to get out and do something fun than to spread awareness for a good cause?  There are many different ways to get involved and help spread the word this month, whether you want to eat, work out, or be entertained there is an event for you!
Fondue For A Cure – Dip In To Fight Breast Cancer – Who doesn't love fondue?  The Melting Pot and Estee Lauder are teaming up to to present this event aimed at fighting Breast Cancer, with proceeds benefitting The Breast Cancer Research Foundation.  Stop by the Melting Pot (Burlington/Bedford location) tonight, October 4th to support this cause.  Reservations are required and guests can enjoy a 3 course menu consisting of your choice of cheese fondue, followed by an entree cooked and served fondue style, and closing out with your choice of chocolate fondue.  The event is $40 per person and $10 will benefit the Breast Cancer Research Foundation.  There will also be raffles for Estee Lauder and Melting Pot gift baskets and each attendee will receive a gift bag full of Estee Lauder products and Melting Pot coupons.
Goddesses Of Laughter – This comedy show is perfect for you're next girls night out!  Join in on the fun Friday, October 12th at the Renaissance Boston Patriot Place hotel and spa in Foxboro.  This new all female comedy tour is performing for one night only to benefit the Susan G. Komen Passionately Pink For The Cure foundation, they will donate 10% of ticket sales to this worthy cause.  Tickets are available for either dinner and the show or for the show only.  Tickets are general admission and for the dinner show cost $49 (reservations required), which includes a 3 course prix menu, and are $25 for the show only.  Dinner begins at 5:30 PM and the show starts at 8:30 PM, the Renaissance Hotel is also offering a special rate(for those with tickets) on an overnight stay for $159 per room.  The tour consists of 5 women who have very unique and diverse comedic styles and have been described as "refined yet quirky".  Come out to support the cause and have some laughs with friends, it's for a good cause after all!
Making Strides Against Breast Cancer Walk – This walk is organized in cities throughout the country and the American Cancer Society is celebrating the walk's 20th year in Boston, Sunday October 14th at Boston's Hatch Shell.  There is no registration fee but walkers are encouraged to fundraise for the cause!  There is a rolling start between 8-10 AM and walkers can choose either a 2 or 5 mile route.  If you know someone who has been affected by this horrible disease or have been affected yourself, this walk is a wonderful way to show your support for awareness and commitment to finding a cure!  Not only does the money that you fundraise go towards research, it also supports prevention, early detection, and patient services.  This walk is an inspiring event that goes a long way towards honoring survivors, raising awareness, and reducing the risk of getting breast cancer.  Want to find other ways to get involved?  The American Cancer Society is still looking for volunteers and sponsors for this event!  There are also walks taking place on the same day in Cape Cod, Nantucket, Lee/The Berkshires, and Worcester, for more information click here.
Join A Party In Pink Zumbathon – Zumba is sweeping the nation, this latin-inspired dance workout not only helps shed some excess weight, now you can zumba for the cure!  Stop by the Book Shack book store on Saturday October 27th for a three hour zumbathon!  Tickets are $15 in advance or $20 at the door with all proceeds benefitting the Susan G. Komen Foundation.  The Book Shack has 2 locations hosting this event, Taunton at 12 PM and their Kingston book store at 3:30 PM.  Get up and get out there!  This event is a great deal and not only will you feel great about getting an intense workout in over the weekend, knowing you are supporting a cause that changes lives has to feel pretty good too!
Whatever way you want to give back, there is an event for you this month.   Breast cancer affects thousands of families across country, and whether you know someone personally or just want to support the cause and spread awareness, there's no better time than the present.  Not only do your generous donations support research that brings us closer to a cure, they raise awareness, promote early detection which helps prevent the spread of this disease, and support patient services which make a major difference in the day to day lives of patients.  There are tons of other ways to get involved this month, look for events in your hometown or purchase products that donate a portion of their sales to charities, getting involved is easier than you think!
Photo By: Fifth World Art