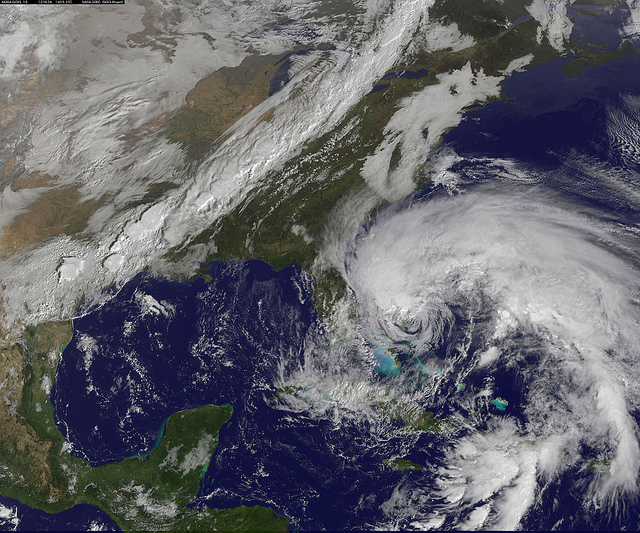 Hurricane Sandy has begun; just two days before Halloween, it has earned the nickname "Frankenstorm." In Massachusetts, many schools and colleges are closed today, as are many offices and business. Governor Deval Patrick declared a state of emergency and urges everyone to stay indoors today if at all possible. Conditions are expected to worsen as the morning progresses, and widespread power outages are being anticipated. Information about the storm continues to update frequently, but as of now, here are some things you should know about Hurricane Sandy in Massachusetts:
If you have preexisting plans to travel, definitely be sure to check websites and schedules to find out if your trip is still on. The storm is causing the cancellations of many flights, and at 2pm today, all MBTA services will be suspended. For details about this, see the MBTA website.
Sandy is anticipated to cause the worst of the flooding today around midday. This is when the high tides will take place, and when the storm is expected to advance. Experts are predicting that the hurricane will last between 18 and 24 hours.  Meteorologists say that the Boston area will receive 1 to 2 inches of rain, while western Mass could get as much 3 to 5 inches.
Here are some web resources about the storm:
-Google is mapping out the storm on their Hurricane Sandy map, which includes a forecast track and the locations of emergency shelters.
-Another resource is the website of The National Weather Service Hurricane Center, which will provide live updates about the storm.
-For information about how to prepare, stay safe during, and recover after the hurricane, visit the website of the American Red Cross.
Hurricane Sandy is definitely expected to create some serious damage in Massachusetts. If something happens, do you know if you will be covered? MassDrive customers have service available 24/7, so that you'll always have access to your provider if you need to report a claim at any given time. Since this is a high-risk time, please make note of the important contact information of our different carriers below:
Plymouth Rock
To manage your policy online, see Plymouth Rock Customer Service
To report a claim, call toll free 888-324-1620
For questions about an existing claim: 617-951-1000
Fax information about a claim: 617-951-1624
Travelers
To manage your policy online, see MyTravelers.com
To report a claim, you can report online
or call  800-252-4633
Commerce Insurance
To manage your policy online, see CommerceCares.com
To report a claim, you can use this online claim submission form
or call 800-221-1605
Arbella
To contact, call 1-800-ARBELLA (272-3552)
Fax to: 1-617-773-4760
Or visit them online at www.arbella.com
You can bookmark this page to keep all of the above insurance contact information on file.  Still not sure who to call, or can't find what you're looking for? Do not hesitate to give MassDrive a call.
And for the latest updates on Hurricane Sandy, visit MassDrive's Twitter page. News breaks keep on coming quickly, so be sure to check throughout the day to stay up-to-date.  And most importantly as the storm wages on, stay calm and stay safe!