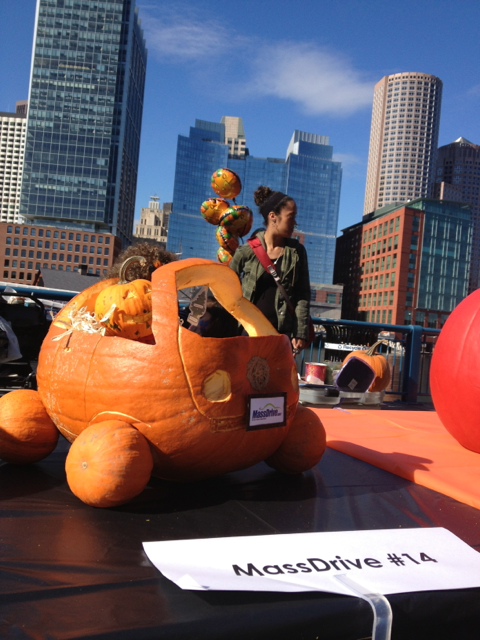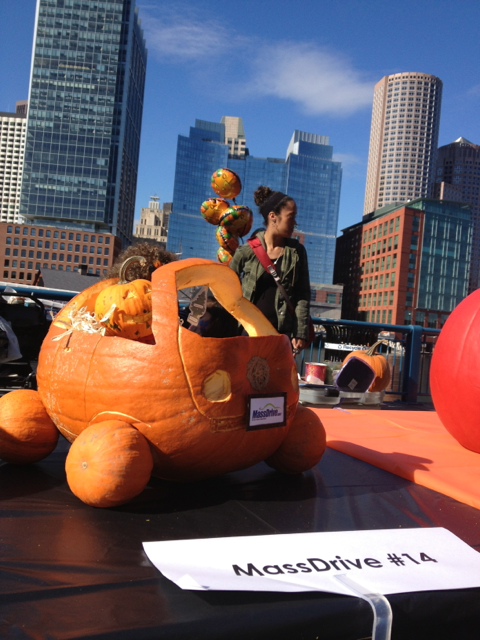 We love our neighborhood – especially when our neighborhood has pumpkin pageants! Last week, the Friends of Fort Point Channel hosted a pumpkin pageant, where local Fort Point businesses could compete against one another in a pumpkin carving competition, to be determined by the voting public to get us all in the Halloween spirit. Does it get more fall than that? Or any cuter?
We were very excited to enter and began brainstorming our pumpkin right away. Our pumpkin was dropped off on Monday and Mike and I set to work designing and conceptualizing a pumpkin that would not only speak to what we do here at MassDrive, but also be a fun carving adventure that really embodied the season.What's more MassDrive than a car? We couldn't really think of anything! So a pumpkin car we set out to make.
We set aside some time on Wednesday to create our masterpiece. I'm pretty sure you're required to toast up pumpkin seeds when carving pumpkins, so we popped ours in the toaster oven, and soon the office smelled great! It was a true fall fiesta. We got several little pumpkins to create wheels for our pumpkin car, and enlisted the help of a scarecrow driver, who we named Earl. We based our design on a convertible VW bug and carved away so Earl could ride in style. Angelique had the awesome idea to add an air freshner to Earl's sweet ride and we felt it really brought the whole thing together. A big shoutout to Mike who did the vast majority of the carving and made our pumpkin look great!
The competition was stiff! There were some amazing pumpkins entered into this pageant! It was a beautiful day so we got to enjoy sunshine, great pumpkins and fall fun. My favorite was the incredible boat pumpkin. Seriously, how cool is this:
There many other awesome ones! Whether the pumpkins were painted, carved or sculpted, serious talent exists in Fort Point! From well known characters, to historical moments to unique designs, there was a pumpkin for every interest and aesthetic.
In the end there were 4 awesome pumpkin trophies and 4 winners crowned in 4 different categories! And the winners were… Drumroll please…
 Favorite: Casner & Edwards (Angry Birds)
Scariest: Margulies (Nightmare before Christmas)
Funniest: Fable Vision (Eating Pumpkin)
Original: Levy (Tea Ship)
Congratulations to the winners! Each pumpkin was terrific! The pageant was a fun day and a great excuse to have a little fun at the MassDrive office.
From all of us here at MassDrive, we wish you a happy and safe Halloween! We hope you enjoyed our pumpkin!