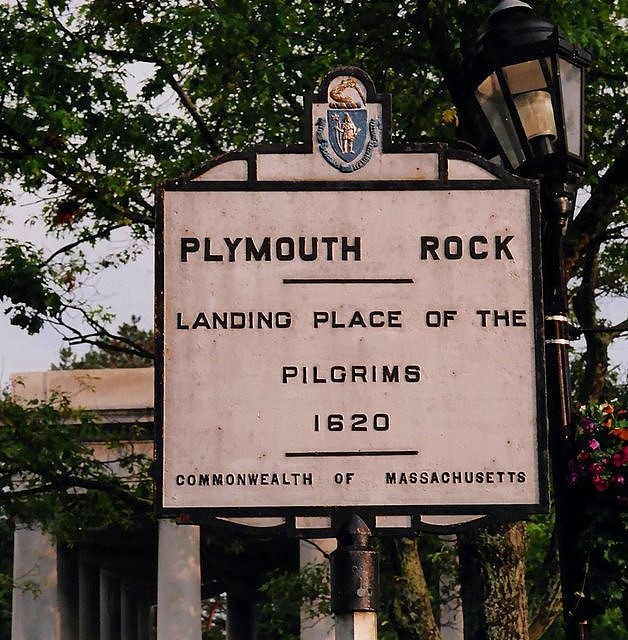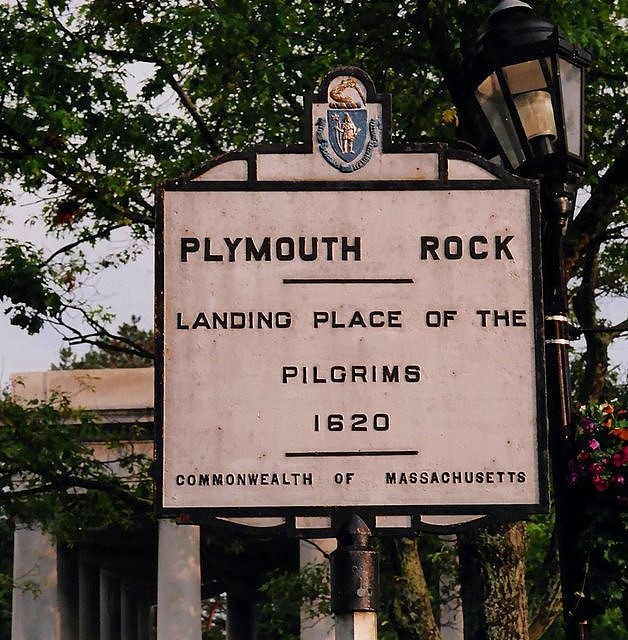 Everyone across the country knows of Plymouth, MA, the site of the first Thanksgiving!  How lucky are we that we have so much history only a short drive away?  Head down to the south shore this weekend and stop by Plymouth, there are tons of museums and historical points of interest, including Plymouth Rock of course!  Remembering how Thanksgiving began reminds us of why we are thankful for friends, family, health, and happiness.  What better time of year to stop by one of the most historic towns in America than the weekend before Thanksgiving?
Plimoth Plantation – Stop by Plimoth Plantation to experience a "hands-on, living history experience dedicated to the Native Wampanoag and Pilgrim colonists of the 17th century.  Costumed guides and modern artisans all add to the educational experience that spans across four award-winning exhibits.  The plantation replica is situated along the Eel River wetlands that overlooks Cape Cod Bay, so not only will you enjoy an entertaining historic discussion, there will also be some amazing views to enjoy before the winter chill sets in.  The museum is open daily from 9 AM – 5 PM and be sure to stop by their gift shop where you can find specialty gifts and crafts!
Native Plymouth Tours – Get an inside look at historic Plymouth through the eyes of a Native American!  Native American guides will lead guests on a walking tour that lasts about an hour and a half and is a mile long, through some of the most famous sites in Plymouth, along with a few that are not as well known.  The Native Americans will give you an educational and historic look back at the relationship between the Wampanoags and the Pilgrims from their perspective.  The tour begins at Plymouth Rock and runs until November 25th.  Friday and Saturday, walk up tours are available at 5:30 PM but require a reservation Sunday-Thursday.  Guests interested in taking the tour after any time after November 25th will require a reservation as well.  Tickets are $15 for adults, $12 for seniors, and $10 for children ages 5-18.
Plymouth Rock – Located in Pilgrim Memorial State Park, Plymouth Rock is one of the most famous attractions to visit in Plymouth.  Engraved with the year "1620" the rock is a constant reminder of the original Pilgrims that landed and made Plymouth their home.  The park has over 1 million visitors per year, and it's no wonder with the beautiful views of Plymouth Harbor to enjoy.  The park is also home to The Mayflower II, a replica of the original Mayflower that first brought the Pilgrims from Europe to America.  Stop by Pilgrim Memorial State Park and get your history fix before Thanksgiving while also taking in some amazing views!
America's Hometown Thanksgiving – We mentioned this event in our blog posting Events This November! but wanted to remind everyone that this yearly event is this weekend! It takes place from the 16th-18th and guests will be able to get a glimpse back in time and learn what the first Thanksgiving was actually like!  We recommend stopping by the Wampanoag Pavillion on Saturday the 17th from 11 AM to 4 PM, where you will be able to ask questions about the first Thanksgiving that will be answered by Colonial and Wampanoag interpreters during the event.  In addition to this info session, there will also be crafts, a harvest festival, photo gallery, historic village, music, living historians who will reenact military events, and artisans creating and selling goods.  Take a step back in time and celebrate the history of Thanksgiving this weekend!
Even though we love to enjoy Turkey Day with tons of food and football, it's important to keep in mind how the tradition started and remember that we need to be thankful for each other!  Take a step back in time and stop by Plymouth this weekend for a dose of American history and a sense of the traditions that started the first Thanksgiving feast!
Photo By: BostonPhotoSphere