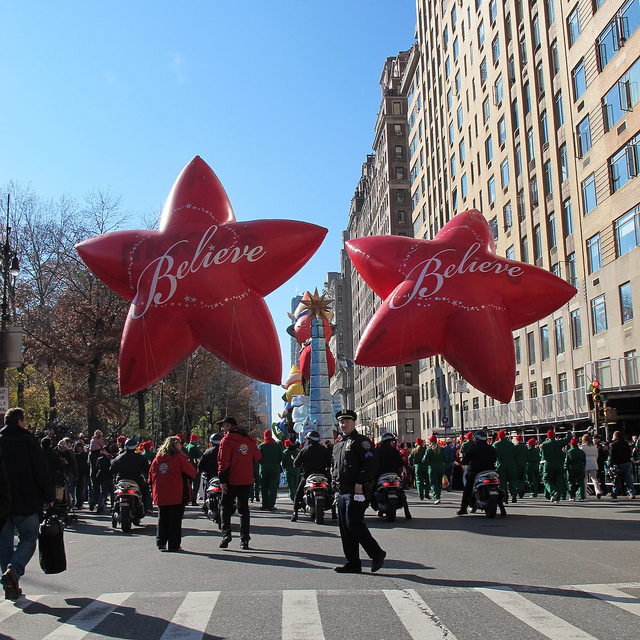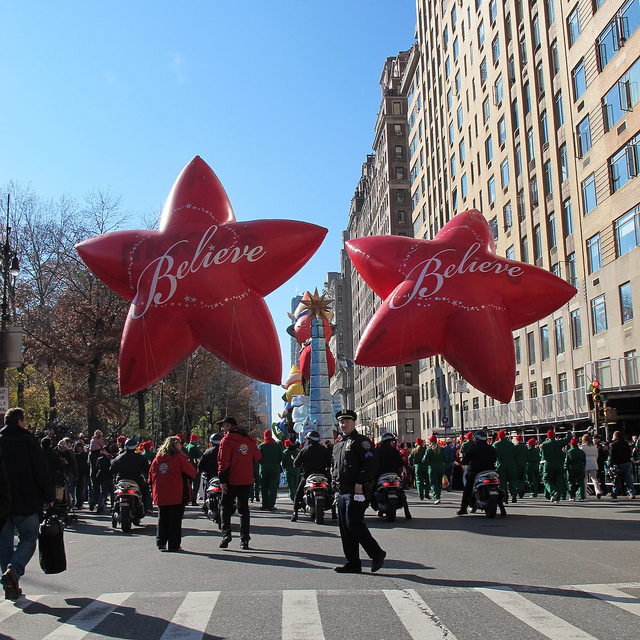 Hard to believe but Thanksgiving is only one week away!  We know there are a few things we can always count on; food, football, fun, and family.  Everyone has their own traditions around the holidays but there are a few that are pretty widespread.   Between the Macy's Day Parade, football, breaking the wishbone, and of course the turkey, there are so many traditions to enjoy and squeeze into one day!  Which of these are your favorites?
Macy's Day Parade – This is a Thanksgiving favorite!  Each year millions of people tune in from home and line the streets of New York to see this wonderous display of floats, bands, performances, and balloons trail through the city.  Beginning in 1924, this is the 86th year of the Parade and it gets better and better each time.  It begins at 9 AM, however if you plan on attending the actual event in New York City, spectators have been know to arrive as early as 6:30 AM!  With over 10,000 participants including the NYPD Marching Band, performance groups, clowns, and Santa himself, the event is sure to please viewers of all ages, as it does every year.  Tune into NBC Thanksgiving morning while you get ready for the day and enjoy the show!
Football – Thanksgiving is one of the biggest football days of the year, it is as much a part of the holiday as the turkey itself (at least for guys).  So what can you expect for games on the big day?  In terms of the NFL, there will be three games on CBS, the first between the Houston Texans and Detroit Lions at 12:30 PM, second between the Washington Redskins and Dallas Cowboys at 4:15 PM, and the night will close out with the New England Patriots vs the New York Jets at 8:20 PM.  Many towns also have high school football teams play against their biggest rival on Thanksgiving, so that is a great social event to take advantage of before the feast begins!  Another way to enjoy some football?  Why not head outside after the big meal and work off some of those calories with a quick game?
The Wishbone – Wishbone's can be found in the chest area of all turkeys and chickens, and breaking it is a fun way to celebrate, especially with children.  Legend has it that two people each hold an end of the wishbone, make a wish, and then pull on the ends until it breaks, whoever has the larger piece gets their wish!  Breaking the wishbone can be tricky, especially if it hasn't had time to dry out.  Be sure to give it some time to dry and become brittle, if you want, save this year's wishbone until next Thanksgiving and break it then, so that each Thanksgiving going forward you can split the wishbone from the previous years' turkey.  This is a fun tradition to participate in with siblings, your better half, or anyone you enjoy stirring up some competition with!
Giving Thanks – During this time of year, we need to remember why we come together to celebrate and keep in mind why we give thanks.  Everyone has something to be thankful for on Thanksgiving, whether it be friends, family, health, or happiness, or a day off of work.  Whatever you are thankful for, take a moment before the big meal to go around the table and have each family member share their thoughts, it will make everyone feel better and celebrates the true meaning behind Thanksgiving!  At this time of year, not only should we be thankful for what we have, but it's important to remember those that are less fortunate than ourselves.  See if there's any way you can give back in your neighborhood this year!  Many towns have food drives, soup kitchens, or even races to benefit the homeless on or around Thanksgiving, so look up some local events and see how you can get involved!
These traditions are only a few of the ways to celebrate Thanksgiving, however you spend the holiday, keep in mind the origins and remember to be thankful for all of your blessings!
Photo By: DrivingtheNortheast