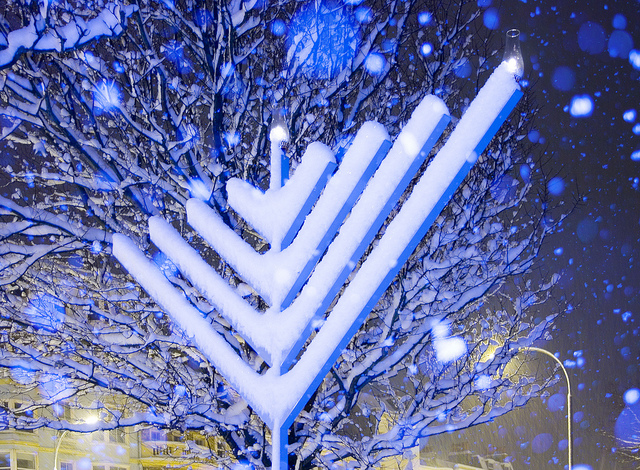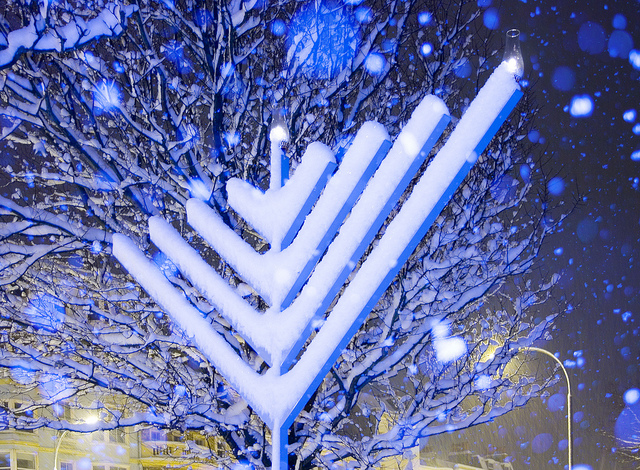 Hanukkah, or the Festival of Lights as it is also known, began last Saturday, December 8th and will conclude on Sunday, December 16th this year.  For those of you looking to get closer to your Jewish roots, or even if you aren't Jewish and just want to enjoy a great celebration, keep reading and check out some of these upcoming events celebrating Hanukkah in the Boston area!
Boston Menorah Lighting With Governor Deval Patrick – This free event sponsored by the Boston Chabad takes place Wednesday, December 12th at Copley Square.  The event will be from 5 PM – 6 PM and is totally free!  Stop by and see the Boston Menorah, one of the largest in the world, being lit while listening to live entertainment from the Berklee Music Ensemble!  Refreshments will be provided and there will even be give aways!  Governor Deval Patrick oversees the ceremony while spectators gather to celebrate light, unity, and liberty.
Jewish Heritage Night at the Boston Celtics – Join the Chabad of the North Shore for a night of entertainment and celebration of Jewish pride with the Boston Celtics!  This event is Wednesday, December 12th at the TD Garden and costs $25.oo, so register and get your tickets as soon as possible!  Seats will be on the Level 7 balcony and Jewish Heritage Night t shirts are also available for $5.  Guests will enjoy the Glatt Kosher concession stand located in close proximity to the seats and there will also be a post game event on the court for Jewish Heritage Night participants!  There will be a Menorah lighting at 7:30 PM and the game begins at 8 PM.  What better way to celebrate the holiday than by combining heritage and history with some top entertainment? Get your tickets while you still can!
Community Chanukah Celebration and Dinner – Join the community of The Boston Synagogue for their annual Community Chanukah Celebration and Dinner this Friday, December 14th!  Services begin at 6:30 PM and will be led by David Finkelstein, a Rabbinic intern from Hebrew College, followed by dinner.  Tickets are $15 for non members, $12 for Synagogue members, $8 for young professionals (20's and 30's), free for children 10 and under and registration is required.  There will be latkes, dreidels, and fun for everyone!  Don't miss out on your chance to enjoy a traditional Jewish meal with friends and neighbors this Hanukkah!
Silver and Saphire: Keshet's Hanukkah Party – Get your dancing shoes on and dress to impress this Saturday, December 15th at this Hanukkah celebration!  This event will begin at 5 PM at the First Church in Boston on Marlborough St, followed by a 21+ after party at the House of Blues!  The best part?  It's totally FREE (although you do have to RSVP)!  There will be music, food, beer and wine (for those over 21), and activities for guests of all ages.  There will be a Menorah Lighting at 6 PM and at 7 PM rock out to the music of The Doctors Fox, a local band known for their eclectic and unique brand of rock.  This event is perfect for the whole family and fun for all ages so reserve your spot while you still can!
Celebrate the Festival of Lights this season with friends and family at one of these events!  All of these festivities celebrate and honor the history behind the holiday while also providing some lively entertainment for participants, how can you go wrong?  Reserve your spots and get tickets to these events before the season of Hanukkah passes us by!
Photo By: Dominic's pics