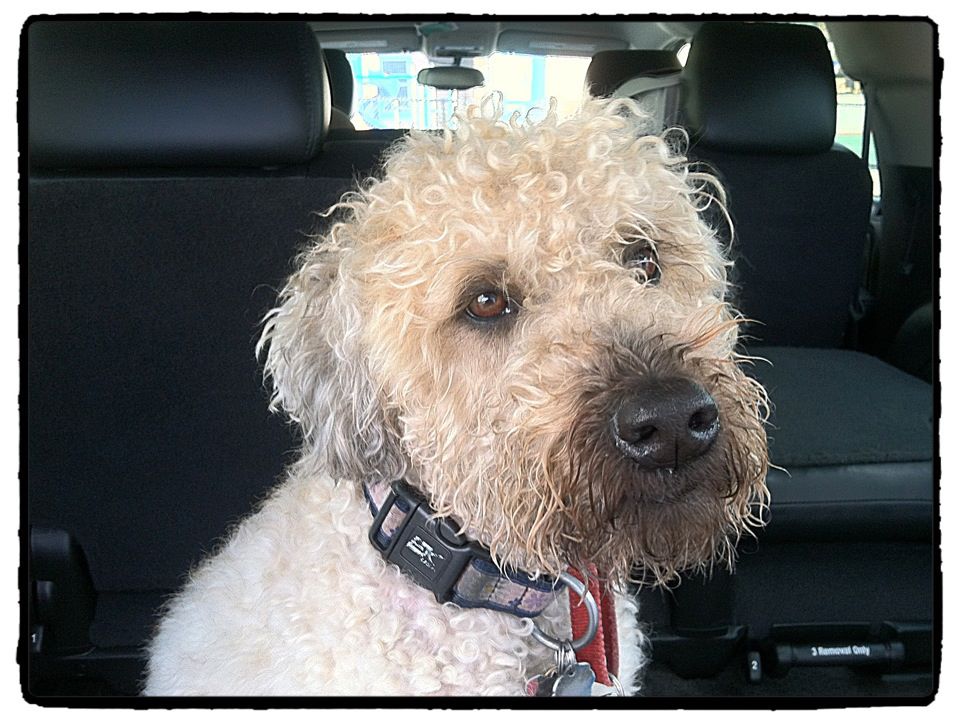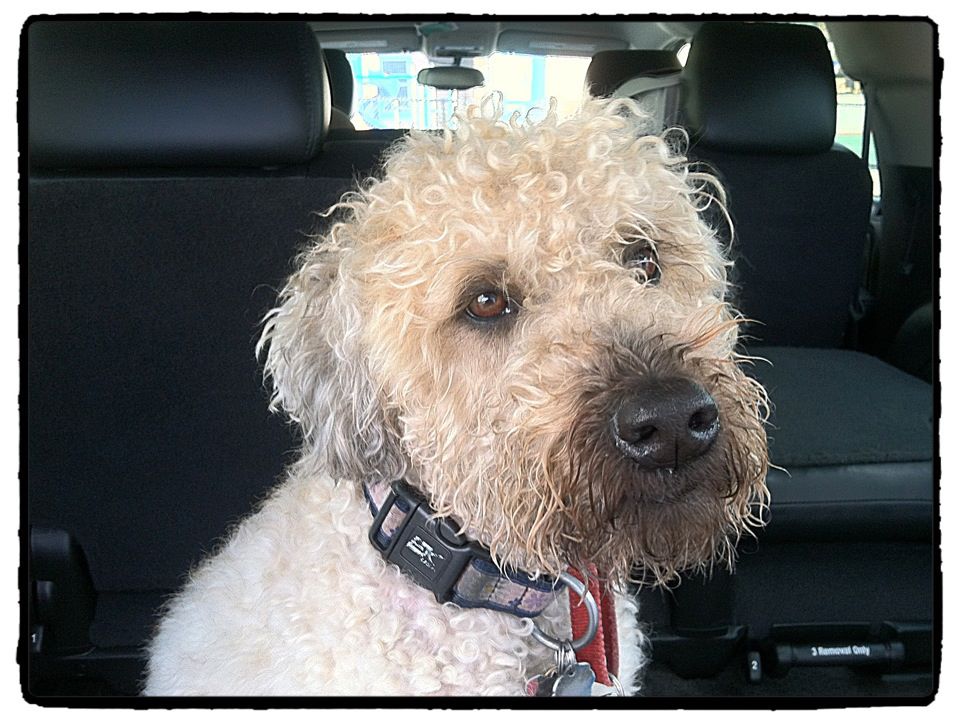 Happy Friday everyone, hope that you all enjoyed your Valentine's Day celebrations!  Today I got to chat with a love bug named Tela, she is an eight year old Wheaten Terrier with a lot of energy!
Tela, I have to say you have a very pretty and unique name!
Thank you!  I was actually named after a Phish song, they are my dad's favorite band!
So Tela, what is your favorite way to spend the day?
My favorite thing to do is sit in my chair in the living room, my parents always laugh at me because I sit just like a human!  I like to call it my perch,  it is right next to the window so I have a great view of our yard and can just sit there while I watch the world go by.  If there is a lot going on outside, like my neighborhood friends going out for walks or some squirrels running by I get VERY excited!  Once I get excited I run outside so I can do some laps and  burn off all my extra energy!
Do you have a favorite treat?
Every day when my babysitter, Maureen, arrives the first thing she does is give me a treat!  I am a very lucky girl because I usually get a mini hotdog treat, they look like the real thing but are just for dogs.
What about a favorite toy?
I have a habit of destroying most of my toys, I don't even mean to do it though!  I guess I just play a little too rough some times but the one thing that I am very careful with is my lovey, it is a froggie blanket that I sleep with every night.  I don't even try to play with it though because I don't want to risk hurting it!
Is there anything that you're afraid of?
I can't stand when there is a low battery in the smoke detectors!  The constant beeping makes me nervous and the sound is so high pitched that it hurts my ears so those are probably my biggest fear.  I never know how long it is going to take for my parents to turn it off and what if it happens when I'm home alone?  The sound drives me crazy!
With so much energy you must love to go for walks, do you have a favorite route?
You're right I do love to go for walks.  I'll follow my dad around all day if I think he might bring me out, there are so many things to see and smell right outside of my own back yard!  Lately we have been going for walks up the Parkway to the water town in West Roxbury which is nice.  There is a great view of Boston and it's a nice spot for me to go and enjoy some "me time".  Other than that I enjoy our family hikes on Martha's Vineyard, there's nothing better than tiring myself out on a walk before watching the sun set on the beach!
Do you have any health concerns for the future?
Well my parents recently found a lump on me that made us very nervous.  They took me to the vet but it turned out to be some fatty tissue, I don't even know how that happened though because I am a very active and sleek young lady if you ask me.  My parents were relieved that it was something so minor, luckily we have pet insurance so either way my medical bills would have been covered.
Fatty tumors are very common on all breeds of dogs but can resemble cancerous tumors.  This is a scary situation for any pet owner and you won't have peace of mind until you know whether or not it is cancerous.  Tests and biopsies can really add up which is why pet insurance is so essential when it comes to properly caring for your furry friend!  Give us a call at MassDrive and get a pet insurance quote, you won't regret being prepared to take the best possible care of your pet if the time comes!