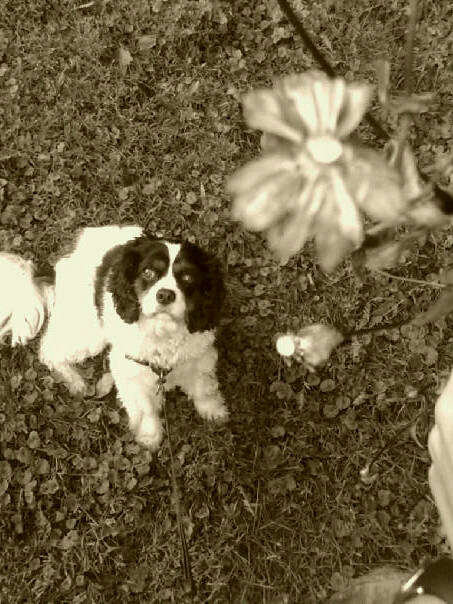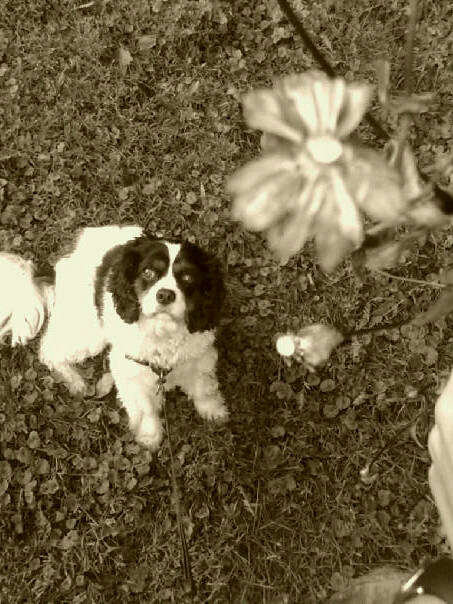 Here we are again with another Furry Friend Friday interview!  We finally got a beautiful, sunny Friday for an interview and today I chatted with Bear, and no he's not actually a real bear, just an adorable seven year old Cavalier King Charles spaniel.
So Bear what is your favorite way to spend the day?
I actually have a few pastimes, I'm a fan of the great outdoors, so I love going hiking or doing anything related to nature.  My absolute favorite thing to do outside is go crabbing! I'm a big seafood fan, so whenever we go to the beach I always look out for any dead crabs I can munch on.  They're pretty good too so don't knock it til you've tried it!
Do you have any favorite toys or treats?
I'm not really a fan of toys, haven't been ever since I was a young pup.  Just because I don't like toys doesn't mean I don't like to play though; I have a lot of friends both human and K-9 and we always have a great time.  When it comes to treats though, that's a totally different story.  You know those baked pig ears? Those are my favorite snack ever! My mom thinks they're weird because sometimes they have hair on them and are from a real pig, but I can't get enough! I could happily eat those things all day if I had the chance.
What about any fears?  Does anything scare you?
I have to admit that water does make me very nervous, I don't like to go near it but I always seem to get thrown in! I don't know why people think it's funny to scare me, they wouldn't like it if I scared them!  I do have a life vest that is just for dogs though, so I'm safe when I go in the water, I just don't like it.
Do you have a favorite place to go for a walk?
Well as I said, I'm very into the outdoors and I love going to the golf course near my house.  I get to run free in those wide open spaces and take in the fresh air.
Have you ever been in a situation where pet insurance would have come in handy?
Well, about four years ago I had a near death experience that cost my family A LOT of money.  It all started when I tore a ligament in my thigh, which was painful enough to begin with!  I needed surgery to fix it and unfortunately my vet messed up the procedure and I got a serious infection.  I couldn't even go to the bathroom and eventually my family had to take me to the animal emergency room.  After that I spent two weeks in the ASPCA hospital before I could finally go home.  It was very traumatizing.
Medical issues can happen at any time, and in this situation Bear's pain was all due to the vet's mistake during surgery.  This whole situation cost his family thousands and thousands of dollars, a cost which would have been covered if he had pet insurance.  Give us a call at MassDrive today and get a quote for pet insurance, if your furry friend were ever in trouble, you wouldn't want finances getting in the way of life saving treatment!