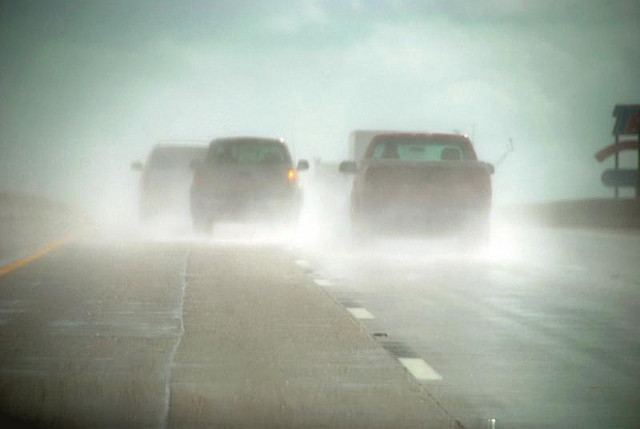 Although us New Englanders are used to driving in the wettest, slickest, and foggiest conditions, we can always use a quick reminder on how to safely drive in the rain.  The most important things to remember are making sure you are visible to other drivers and that you yourself can see.  These tips will keep you safe and are great to share with friends, family, and co workers!
First, make sure that your vehicle is rain ready.  Make sure that your wind shield wipers are securely attached and not bent or deteriorating, after a rough winter like the one we just had, it may be a good idea to replace your wipers.  You should also check and be sure that all lights are working, especially your headlights, brake lights, and turn signals, as it is extremely important to remain visible to other drivers.  As soon as you get in your car, turning on the headlights should be the first thing you do if it is raining.
You should also check your tires before driving in the rain, make sure they have enough tread and aren't bald.  Bald tires can not grip the ground or create traction which makes it much easier to hydroplane.
Did you know that hydroplaning can occur at only 30 MPH?  Slow down!  Driving in the rain is dangerous enough without speeding, it may even be smart to go slower than the posted limit, depending on the severity of the weather.  

 

Keep your distance from other cars, especially large trucks since they can splash up some major water and mud that can make visibility even worse.  It's also a good idea to keep about three car lengths between you and the car in front of you while driving.  Stopping takes longer when it is raining, and if the roads are slick it can be even more difficult to stop in time, and if you rear end someone you are technically at fault!
Try and avoid driving through large puddles, the water can cause some hefty damage to the brakes or electrical systems in cars.  If you do happen to go through a large puddle, test your brakes once you are through just to be sure they are working properly.  If you find your brakes are not working, they are likely too wet to function and the only way to dry them out quickly is by lightly tapping on them repeatedly to generate heat and dry them.
If you find your windows fogging up, turn on the defroster to clear off the windows.
If you follow these tips you should be able to safely get to and from your destination in the rain, however accidents happen.  If you do find yourself skidding out when it's raining, take your foot off the gas and steer in the direction you want to go.  If you have a car with anti-lock brakes, hit them firmly while steering the car where you want to go, if your car does not have anti-lock brakes, do not use the brakes.
Always remember, if it is raining so hard that you can't see, pull over!  It's better to wait the rain out than to endanger yourself or other drivers.
There you have it!  Now you can head out into the rain a little more prepared than you were before, and can share these important safety tips with other drivers!
Photo By: faungg