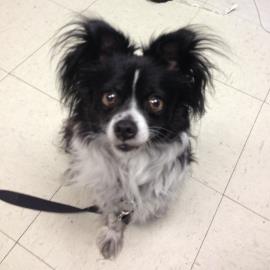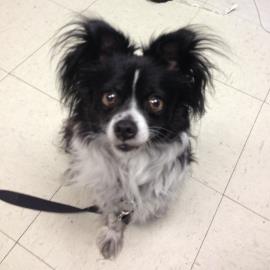 Happy Furry Friend Friday everyone!  It's a scorcher out there, we hope you're staying as cool as our friend Leroy!  This little cutie is a 3-year-old papillon mix up for adoption at the Lowell Humane Society, and he's ready to meet his forever family!  Found as a stray, this guy is ready to finally settle down in his new home!
So Leroy, what is your favorite way to spend the day?
I LOVE going for walks!  Being out and about is my favorite thing to do by far!  I also love playing fetch, I have a lot of energy and that tuckers me right out.
Do you have a favorite place to go for a walk?
Well the shelter here is right near the Merrimack River, so I love walking along the water.  There is always so much going on there, especially now that it's getting warmer!  I love watching all of the people out on boats, maybe when I finally get adopted my new family will bring me out on the water and I can see what it's like to go boating!
Is there anything that you're afraid of?
Not really, I went through a few evaluations when I came here and nothing scared me or made me nervous!  In fact, I did great on all of my evaluations!  I'm approved to go to homes with another small dog, or even a cat maybe!  Not positive about cats but I would be willing to give them a chance.  I would even be good with school-aged children, basically I love everyone and would be perfect for nearly any home!
Do you have a favorite treat?
I go crazy for hot dogs!  They are my absolute favorite snack, but I don't get them very often since I'm not supposed to have people food.
What about a favorite toy?
You know those plush squeaky toys?  Those drive me crazy!  It's kind of a love-hate relationship, I love chewing on them and the noise they make, but hate when they rip apart and that stuffing gets stuck in my mouth!
Leroy, why do you think it's a good idea for all pets to have pet insurance?
Well personally I love to socialize, and where do dogs go to do that?  The dog park.  The only problem with that is that dog parks carry all kinds of diseases!  Imagine hanging out with your friends in a public bathroom?   As clean as I am, it's still easy to catch something from a dog park.
Leroy is a smart boy, and what he has to say about dog parks is very true!  It's easy for your pet to catch a disease from another dog, dog's get sick just like people do!  Dog parks's are not the only risk either, your dog can get sick or have an accident when you least expect it, that's why it's so important to be prepared and protect your furry friend no matter what!  Protect your pet like you would any other member of your family, call us for a pet insurance quote today!
Thanks again to the Lowell Humane Society for letting us feature Leroy this week, and a very special thank you to Crystal, the director of the shelter and one of our customers here at MassDrive!  The Lowell Humane Society still has Peachie up for adoption as well, she was featured in a previous Furry Friend Friday interview which you can read here!