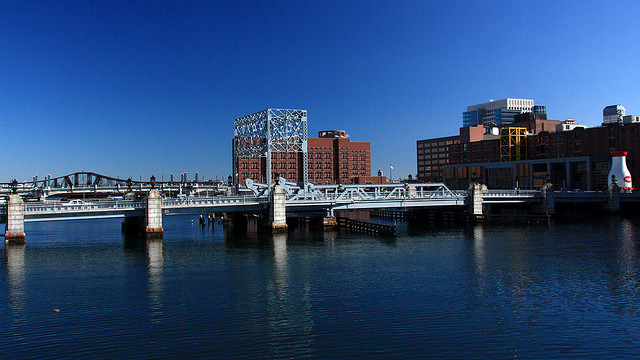 Here at MassDrive we love to support local businesses, and our main office is located in the Fort Point area of Boston.  Not only do we love the location of our office, we love our neighbors here as well!  There are a lot of great lunch spots, restaurants, the harbor walk, and even nearby attractions to head to after work.  In an effort to show our neighbors some love, our Sales Manager, Steve Fucci, has named his top 5 favorite spots in the area!
1. Lucky's Lounge – This gem is only a short walk from our office and Steve describes it as having "a great ambiance as well as quality dishes".  Not only is the food delicious, there is an extensive drink menu as well.  They have been featured on Channel 5 Chronicle, Phantom Gourmet, and in 2012 won the Improper Bostonian's "Boston's Best" Award and Boston Magazine's "Best of Boston" Award.  Live music is another fun feature of this restaurant, and the speakeasy atmosphere makes it a fun stop for after-work beverages.
2. Tavern Road – Located on Congress Street, Tavern Road describes themselves as "A high-energy, modern, restaurant and bar".  They have really embraced the local artistic community and utilized local artists to create a unique and original design concept for their restaurant.  They are open for dinner 7 nights a week and the menu blends many different ingredients together to create fresh, unique entrees.  Prices are fair for the quality, and we definitely recommend checking out their "Lil Snacks" which cost $5 each.
3. Sportello – This is a favorite lunch spot of everyone in the office, we especially love their $11 lunch boxes which come with a sandwich, drink, chips or popcorn, and cookies.  They have something for everyone including vegetarian options.  They offer brunch, lunch, dinner, and also have take-out options.  The bakery has endless amounts of delicious pastries, cookies, and every kind of sweet you can imagine and items change daily.  This is a spot we highly recommend to anyone looking for an amazing sandwich.
4. Barlow's – When it comes to this restaurant, the location can't be beat.  It's located right in our building so is one of our most frequent stops for lunch and drinks.  The chips they serve at the bar are addicting, and they have different specials each night including $1 oysters on Monday's, Taco Night Tuesdays and live music on Thursday, Friday, and Saturday.  Their bar bites are a bargain and great snacks right after a long day, and the outdoor patio has a beautiful view of the harbor and the Boston skyline.
5. Metro Cafe – This place has everything you could imagine, from pastries, donuts, and bagels for breakfast, to fresh fruit, snacks, and even sandwiches made fresh for you.  You do have to get there early though before all of the best sandwiches sell out!  If you need to take a quick lunch and just want to get some fresh air, Metro is the perfect place to go because it's only a short walk from the office, and you can bring your lunch back to your desk if you have a lot to do.  The staff are always friendly and get to know you after a while, and they also have a lot of salad options if you're looking for a lighter lunch.
If you're in the area, definitely check out these amazing spots, you won't be disappointed!
Photo By: Bill Illott