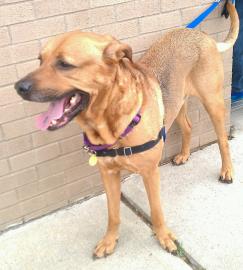 Happy Furry Friend Friday everyone, meet Big Mac!  He's a 4 year-old lab/shepherd/retriever mix and weighs in at 87 pounds so his name definitely suits him!   Isn't he cute enough to take a bite out of?  Well you can't do that, but if you're interested in adopting or even fostering him until he finds his forever home, contact the Dakin Pioneer Valley Humane Society in Springfield!
So Big Mac, what is your favorite way to spend the day?
Well, as long as I'm with people I'm happy!  I loved to be petted and get to spend a lot of time with one of our volunteers named Sarah.  She's so nice and takes me out of the kennel and lets me sit in her office sometimes.  I'm very uncomfortable in these surroundings after being in a home for so long!  For a while I even stopped eating because I was so upset, luckily I've gotten my appetite back and am doing better but I would love to find my forever home and be able to go for walks and cuddle all day!  Even car rides are fun for me, I'm a very good rider and love sticking my head out the window and getting some fresh air!
Do you have a favorite toy or treat?
When it comes to treats I'm not that interested, I'm sure that's surprising considering my name but I'm just not food motivated right now.  Like I said, my appetite has been a little funny so maybe once I'm in my forever home I would enjoy a few snacks.  When it comes to toys, I love chasing tennis balls!  I could play fetch all day if you can throw!
What about fears, is there anything that scares you?
I am very scared of cats!  You would think I would be tough because I'm so big, but I'm really just a gentle giant and those cats can be mean sometimes!  Not to mention their claws, which are extremely sharp and scary!
What would be your perfect forever home?
Well as long as there are no cats I would be happy anywhere!  I love all people, I would probably be better in a home with older kids though just because of my size, I wouldn't want to get too excited and knock over a little toddler, I would feel so bad!  I also love other dogs so if you already have one I would be a great addition!  Other than that being somewhere where my people love me, walk me, and pet me is all I need to be happy!
Big Mac, why do you think pet insurance is so important for all pet parents?
Well if you ask me, pets are members of the family too, so why not protect us like every other member?  What if I accidentally ate a Big Mac one day and got sick?  The vet bills could get expensive and if you have pet insurance it can save you a lot!
Big Mac is right, pets are like members of the family but they are also unpredictable and can get their noses into trouble every so often.  Pet insurance is a great safety net for all of the pet parents out there!  More likely than not, you will have to bring your pet to the vet for an unexpected issue that can rack up some major unexpected expenses, call us for a pet insurance quote today and make sure your furry friend is protected!