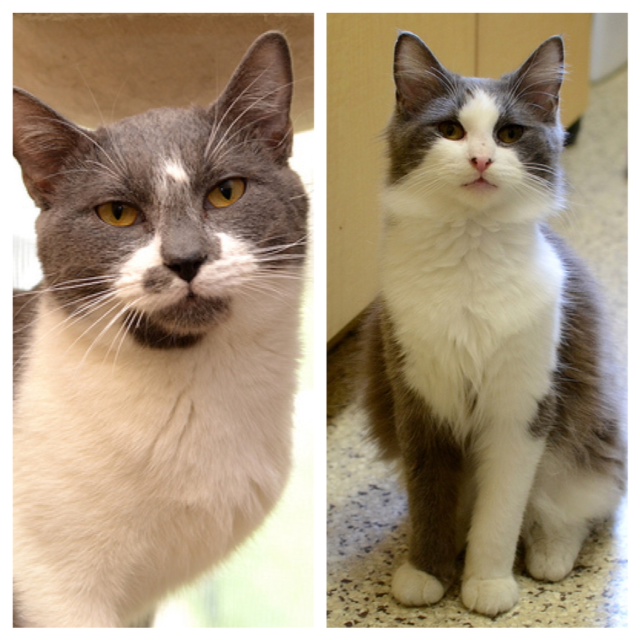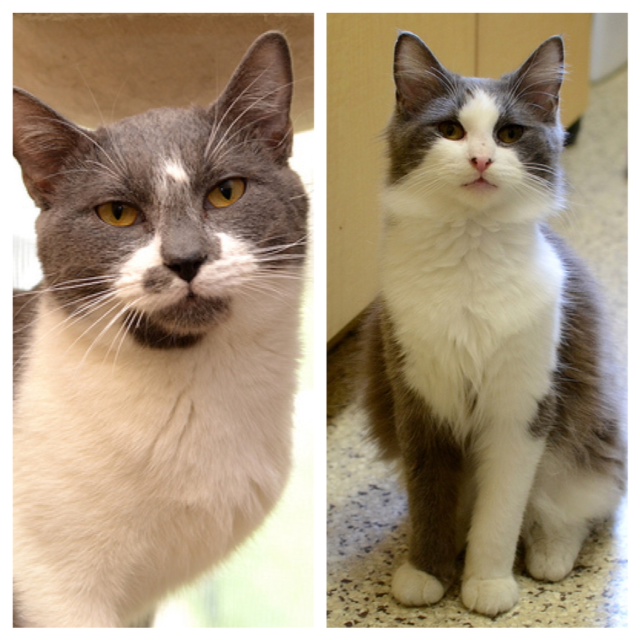 Today's Furry Friend Friday interview is extra special, we have double the trouble (just kidding), double the excitement, double the fur, and double the cuteness this week!  Meet these two 3 year-old brothers, Smoke, and Whisk.  These cats are up for adoption at the Scituate Animal Shelter and have been looking for their forever home for a while now!  They can get separated but would prefer to be in a home together if possible!
So Whisk, how do you and your brother like to spend the day?
Well we are both very similar, not only in our looks but in our personalities as well.  Both of us like to be held and picked up, although if we get distracted by something we definitely have to go investigate so might jump right off your lap!  We are both very happy though and enjoy being around people and other cats, not too sure about dogs just yet.
What about you Smoke? Do you have a favorite toy to play with during the day?
I love squeaky toys, we both do actually.  There's also a big scratching post that's also a tower we can climb up on and stare out the window.  If I'm not playing with my squeaky toys, that's usually where you'll find me.
So Whisk do you enjoy the great outdoors?
No, we are both strictly indoor cats.  In fact, all of the cats that get adopted out from the Scituate Animal Shelter are required to be indoor cats.  It can be very dangerous outside for cats when you think of all the risks including cars, coyotes, foxes, diseases, you name it!  We enjoy being indoors anyways and don't think we're missing out on anything.
Smoke is there anything that makes you nervous?
Nothing in particular, we are both pretty brave and very friendly, we aren't skittish at all around people!
Why do you both think pet insurance is important for all pet parents to consider?
Well, we are both only 3 years old but both have a mild dental condition that may need attention in the future.  At the moment it doesn't bother us, in fact we probably wouldn't have even known about it if it weren't for the vet!  If you have pet insurance before something like that is discovered, treatment would be covered! That would be a huge help! – Smoke
Well, I would have to agree with my brother, and maybe if our old owners had pet insurance they could have afforded to fix the problem before it got worse. – Whisk
These two brothers are pretty smart 3 year olds!  Not only do they know the value of a dollar, they are thinking big picture when it comes to their own health.  Just as people age and need more frequent health care, the same goes for our pets so it's best to be prepared.  Give us a call at MassDrive and get a free pet insurance quote for your furry friend today!