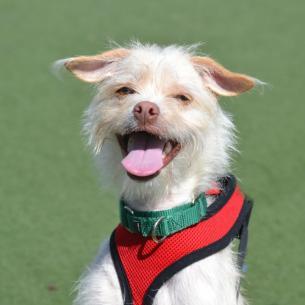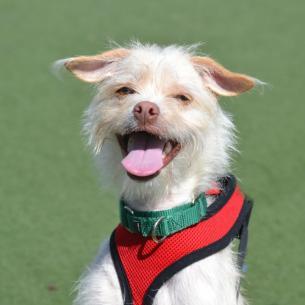 Happy Furry Friend Friday everyone!  We're back with another interview, today I got to sit and chat with Ralphie, an 11 month old border terrier mix up for adoption at the Northeast Animal Shelter in Salem.  This little guy is always smiling and is ready to find his forever home!
Hey Ralphie, thanks for sitting down with me today!  When you're not doing interviews, what is your favorite way to spend the day?
You're very welcome, I was so excited to get to do something different today!  I love exploring and trying new things, my absolute favorite thing to do is go on walks!  It doesn't matter where I go, I just love being out and about and smelling new things!  I'm also very excited for the fall season, the leaves have already started falling and whenever I see them I love to chase them!  I'm a very active little guy, and I'm still a puppy so I have a lot of energy to burn.
Do you have a favorite place to go for a walk?
I like going anywhere, especially new places.  Right now I go out in the play yard a lot and the walking trail near the shelter, I hope when I find my forever family they take me on a lot of hikes!
What about a favorite treat or toy?
When it comes to treats, I'll take whatever I can get!  I love a nice snack no matter what it is.  In terms of toys, I LOVE squeaky toys!  I chase them all over the play yard when I'm outside, and I'm pretty fast so I can get to them before a lot of the other dogs.
Is there anything that scares you?
Nothing I can think of, and nothing I have experienced so far, I'm pretty tough for such a little guy!
What do you think would be the perfect family for you?
Well I would love to go home with someone that is active, like me!  I'd love to go for runs or even hiking to burn off my energy!  Other than that, I would be great with a family with older children age 12 or up, I'm a very good boy but am still working on my manners and wouldn't want to scare any little ones.
Ralphie, why do you think pet insurance is a good idea for all pet parents to consider?
Well, I'm still young so I haven't had too many life experiences but from what I can tell it just seems like a good idea to protect your pets and their health.  From what I've seen so far, vet bills can be very expensive!  I wouldn't want to pay those myself, so I can't imagine having to pay a huge vet bill on top of all the other bills pet parents have!
Ralphie may be young, but he's wise beyond his years!  Pet parents know better than anyone how expensive vet bills can be, and pet insurance is the best way to protect your pet and your wallet, so call one of our agents for a free quote today, you may be surprised at how affordable pet insurance actually is!