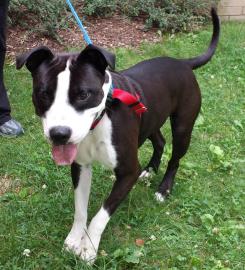 We're back with another Furry Friend Friday interview!  Today I got to chat with Woodrow, a 1 year-old pit bull mix up for adoption at the Dakin Pioneer Valley Humane Society in Springfield.  This cutie is very friendly but has been looking for his forever home for a while now, so if you're looking for a new best friend be sure to stop by and pay Woodrow a visit!
Hi Woodrow!  I'm glad you were able to sit down with me, what do you usually do for fun during the day?
Well I love being around people and getting petted, it's my absolute favorite thing!  I also have a lot of energy, so I love playing outside in the yard.  I'm really lucky because I get to spend some time in foster care, and don't even have to stay in the shelter (not that it's bad, it's just too much for me)!  I get to play outside in the back yard, and the neighbors even have a dog that I get to play with!
What about toys?  Do you have any favorites?
I have a lot that come to mind, I'm a very lucky guy and have a lot of toys to choose from!  I really love squeaky toys and rope toys, I like playing tug of war and love the sounds the squeaky toys make and chasing them around.  Another favorite of mine are Nylabones, they're like a snack and a toy combined because I can chew on them and they keep me entertained for a while.
Is there anything that you're afraid of?
Not really, I'm a pretty tough pup!  I was found as a stray and picked up by animal control, and the Dakin Pioneer Valley Humane Society was nice enough to give me a chance!  I learned a lot from my time on the streets and saw some crazy stuff, but none of it phased me at all!  Even though I'm a big lovebug I don't scare easy!
What do you think would be the perfect family for you?
Well, I think a family that has experience with dogs would be great.  I'm still a young pup and have more to learn, but I'm very smart and pick things up quickly!  I love kids but because I'm so big and have so much energy I would probably be better off in a home with older kids.  I could even go to a home with another dog, as long as I get to meet them first!  No cats though, they're too much fun to chase!
When it comes to pet insurance, why do you think it's a good idea for all pet parents to consider?
Well when I was out on the streets, I saw a lot of stuff and I was lucky enough to be found unharmed but there were a lot of dangerous things out there!  Between cars, fleas, ticks, and more, there were a lot of things that could have put me in danger!  That's just my own experience though, I'm sure other pets can find ways to get into trouble that may wind them up in the vet's office, and those bills can add up quickly!
Woodrow is a pretty smart pup, and is so right about the everyday dangers that come face to face with our pets!  Pet insurance is a great way to make sure your pets, and your wallet are protected in the event of any accidents, call one of our agents today for a free quote!
To see Woodrow in action, check out this video of him here!