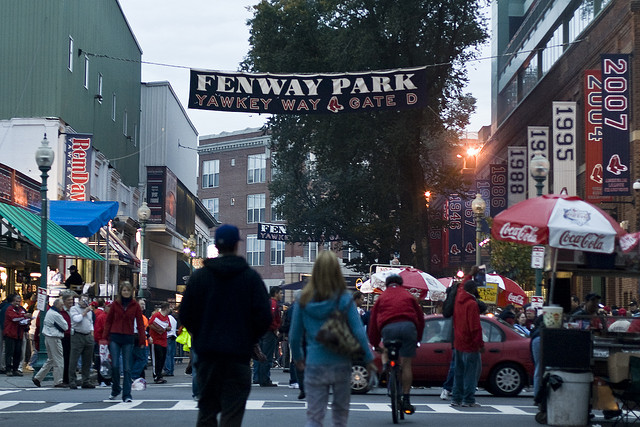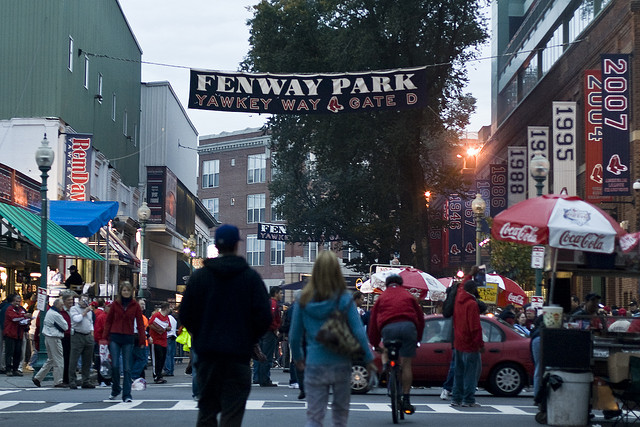 Driving in Boston can be overwhelming for even the most experienced of drivers, but driving near Fenway Park is a whole other ball game.  Not only is it over crowded on game days, but finding parking can be a nightmare.  If you're going in for a game, these tips may come in handy, so keep them in mind!
Directions:
When you're driving in for a game, make sure to leave early.  There will most likely be traffic outside of the city and then even more once you get closer to Fenway (traffic near the park usually begins 1 hour before the game).
If you're coming from the North, you can take either I-93, I-95, Route 1, 1A, or 128 towards Boston.  From there, take the Storrow Drive westbound exit and follow that to the Fenway exit.  Once you get off turn right on Boylston St. and start looking for a spot!
If you're coming from the South, take  I-95 towards Boston, then take 20A to Route 9 East towards Boston, turn left at Brookline Ave, then right onto Boylston and begin the search for parking.  You can also take I-93 towards Boston and get off at Exit 26 towards Storrow Drive, follow that to the Fenway exit, and then turn right onto Boylston St.
If you're coming from the West, take the Mass Turnpike East towards Boston and get off at Exit 18 at the Brighton-Cambridge tolls and head towards Cambridge.  Turn right onto Storrow Drive East and get off at the Fenway exit, then turn right onto Boylston St.
Parking:
If you don't mind walking, park as far away from the park as possible.  Parking anywhere in Boston can be expensive, but especially near Fenway.  Parking downtown or near a green line T station is a good option.  A great hidden gem is the Boston Common Parking Garage, which is right under the Common.  It's only a short walk from the Park St and Boylston St Green Line T Stations.  The Green Line, C train- will drop you off at Kenmore only a few blocks from the park and you'll get to walk down Yawkey Way and grab some food or souvenirs before the game starts.  If you're on the D train the Fenway stop is an option as well.
The Prudential Center is another great parking option if you don't mind a 10 – 12 minute walk to Fenway.  Parking is only $16 for night games and weekends, which is a great deal in Boston!
The Garage At 100 Clarendon is the official garage of the Boston Red Sox, and for night or weekend game attendees it only costs $10 to park!  All you have to do is bring your ticket stub the the Garage Office (ticket stub date must match parking date) and you'll receive a validation.  The garage is only a 15 minute walk to Fenway Park and is the only garage in Boston with access to the Mass Pike!
If you do need to park as close to the park as possible, you can find a list of parking garages near Fenway on the Red Sox website.
We know how stressful driving in Boston and finding parking near Fenway can be, but hopefully these tips will make the process a bit easier!
Photo By: zaigee