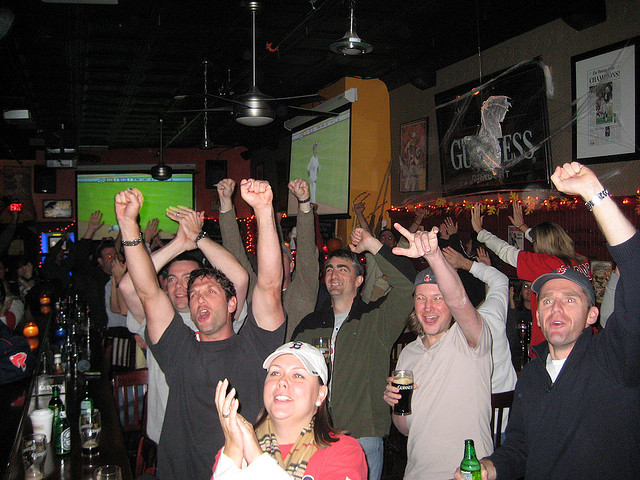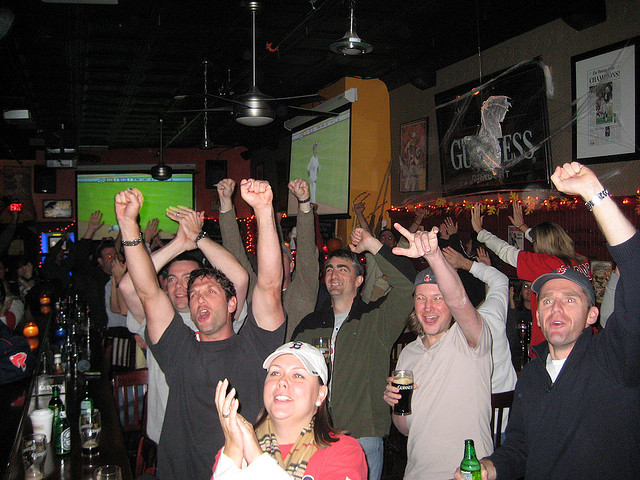 If you live in Massachusetts, odds are you love the Red Sox, and if you ask us, there's no better spot to watch a game than in Boston itself.  If you're not from the area, you may not know where some of the best spots are, so our agents have some tips!  Of course Fenway is the top choice, but if that's not an option there are tons of spots to catch a game in the Boston area!  Our agents have narrowed it down to a few of the best, so if you're in the area be sure to stop by one (or all) of these fun local bars!
Brighton Beer Garden – This is a favorite spot of our customer service rep, Chrissy.  They have darts and pool tables so you can play some games and socialize while you watch the game.  Their beer menu is huge and Chrissy says their pub food is amazing.  Another great plus is that they have tons of TVs so you  don't have to crane your neck to see what's going on.  Every Monday they have all-you-can-eat wings for $6.99, so if you plan on stopping by for game 5 tonight make sure you take advantage of that awesome deal!
Cambridge Brewing Co. – Located in Kendall Square, this is a frequent stop for our sales agent, Shawn.  He said they have awesome food and drinks, and they have a wide variety of both standard and experimental beers that are all their own original brews.  They pride themselves on using local ingredients and their beer is always fresh and brewed on site.  Whether you're an expert on craft beer or not, you'll definitely appreciate the taste and quality of their brews and the fun atmosphere.
Jerry Remy's – Our sales agent, Christine, enjoys taking in a game at Jerry Remy's, it's located right next to Fenway Park and if you sit on their roof deck, you'll be overlooking Fenway's right field wall!  Two massive 6.5 x 11 foot TVs, along with many other 36 inch hi-definition TVs, make this the perfect spot to take in a game, and you'll never miss a second.  Their American food is served with a creative twist and there are tons of options to choose from.  This is the ultimate game watching experience, and it's so close to Fenway you may feel like you're actually there!
Stats Bar and Grille – Located in the heart of South Boston, Stats is a favorite stop of our sales agent, Jeff.  It's a popular spot for younger crowds, and on game days it gets crowded pretty quickly, so make sure you get there a little early unless you don't mind standing.  There are 22 flat screen TVs throughout the bar, so wherever you are you'll never miss a play.  They have a menu full of classic bar food including pizza, burgers, fish & chips, and much more! Stats is a guaranteed good time whether you're there for the game or just for a quick bite.
Yard House – Our sales agent, Teresa enjoys catching a game at Yard House right near Fenway.  They have extensive food and drink menus ranging from typical food options such as pizza and burgers, to steak, Mediterranean food, multiple taco varieties, and much more.  Their beer menu is one of the largest around, and don't miss out on drinking one out of their 3 foot tall glasses!  Before and after the game, enjoy their classic rock playlist with friends and late night happy hour!
Wherever you plan on watching the game, make sure you have a plan to get home safely.  If you're going to be drinking, make sure to always use a designated driver!  Whether you're driving or just a passenger in a vehicle, make sure you always fasten your seat belt.  Even if you're driving perfectly and obeying the rules of the road, others may not be, so drive defensively and do your part to ensure that yourself, and others stay safe!
Photo By: acme401