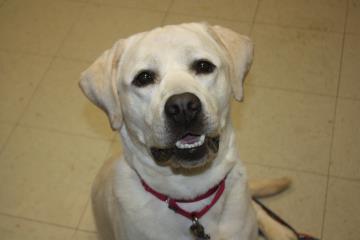 For today's Furry Friend Friday interview we got to chat with Kelso, a 5 year old lab up for adoption at the Lowell Humane Society.  This handsome boy was picked up as a stray and is ready to find a forever home where he can enjoy a nice warm dog bed, toys, and the occasional dog treat!  If you're looking for your new best friend, look no further and visit Kelso today!
So Kelso, what's your favorite way to spend the day?
Well I love to play, even though I'm 5 years old, I have a lot of energy!  I'm pretty rambunctious and my friends here at the shelter describe me as a bit of a bull in a china shop, so I love going for long walks and playing with toys to help burn off my energy.  After a day of fun and running around, I love to curl up and spend some time with my people.
What are some of your favorite toys?
My favorite toys are the squeaky ones!  The only problem is they aren't that sturdy, so I go through them pretty quickly.  The staff here are really nice though and they know I can be a little rough with my toys so they try to give my ones that are a bit tougher and will last longer.
What about a favorite treat?
I love love love food and will eat anything in sight!  That might be why the staff here are trying to help me watch my figure and limit my treat intake, I think I look great but maybe I have gained a pound or two.
Is there anything that scares you?
Nope, I'm a pretty confident boy and can't think of anything off the top of my head.
What do you think would be the perfect family for you?
Well since I'm an active boy I would love to be with a family that can bring me for long walks, or maybe even to see new places like the beach and the mountains!  I love other dogs so would be good in a home with another furry friend if you  already have one, and I love kids but would do better with older ones that aren't afraid of a rambunctious boy.  Since I am a bit rowdy, I would benefit from some training courses, but I'm a fast learner and am sure I would make my new family proud!
Kelso why do you think pet insurance is a good investment for all pet parents to consider?
Well I've already learned that life can take some unexpected twists and turns,  so pet insurance seems like a smart way to make sure your pet can get the health care they need should anything unexpected happen.
Kelso is a smart young boy, and knows that life can hold all kinds or surprises, including when it comes to your pet 's health.  Pet insurance is an easy way to protect their future and ensure that if the time comes, your only concern will be their health, rather than worrying about the cost.  Call us today and get a free quote from one of our agents!