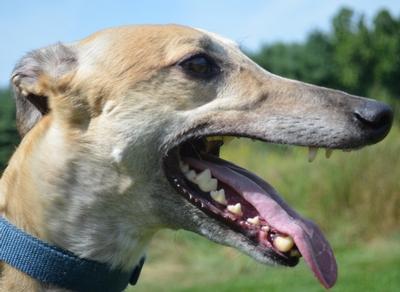 We're here with another Furry Friend Friday interview to kick off your weekend!  Today we got to chat with Cane, a 4 year-old greyhound up for adoption at Greyhound Friends, Inc in Hopkinton.  Cane is a mellow guy waiting to meet his forever family, and would love it if you would pay him a visit!
So Cane, what's your favorite way to spend the day?
Well I love taking long walks, I'm not very high energy though, I don't go too fast, I just mosey around and take my time.  I'm also very good on a leash, all of the staff here love taking me out!  After a walk, I love to curl up and take a nap or hang out with my people. I'm a simple guy and enjoy the little things.
Do you have a favorite treat?
I'm a classic milk bone kind of guy, nothing too fancy, the classic is perfect!
What about a favorite toy?
I like to play with toys when I'm outside, but I prefer to play with my friends.  I would love to go to a home that had another greyhound that I could be friends with!
Is there anything that scares you?
Well small children tend to make me nervous, they can play rough and sometimes climb on me and pull my ears, which can really hurt!  I would probably prefer to go to a home that doesn't have any small children.
What do you think would be the perfect home for you?
Well besides no small children, I would love to go to a home where the people can be home with me a lot, I'm fine on my own but I prefer to have company around.  I would do well with a retired couple maybe or even a family with older children that can take me on walks.  I'm a loveable, easy going guy and could really fit in almost anywhere.
Why do you think pet insurance is a good investment for all pet parents to consider?
Well, humans have to go to the doctors just like pet have to go to the vet, and they have insurance so why shouldn't pets?  We are like members of the family after all, and pet insurance seems like a good way to make sure you won't break the bank on vet bills should anything unexpected happen.
Cane's right, pets are like members of the family and they should be protected like it.  Having pet insurance ensures that you won't have to drain your savings account to get your pet the health care that they need.  Call us today for a free quote, and take the first step in protecting your furry friends health.