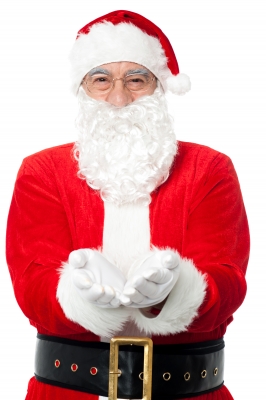 The holidays are the perfect time of year to reflect on what you're grateful for and to keep those in mind that aren't as fortunate.  That's why we've come up with this blog on different charity events taking place this December!  Sometimes the best gift you can give others is hope, and by donating your time, money, or whatever you can spare, you're giving hope to those in need during the holiday season and making their day just a little bit brighter.
Jolly Jaunt – Want to get a head start on burning off all of those calories you're going to eat over the holidays? The Jolly Jaunt at the Lahey Outpatient Center in Danvers is the perfect way to do so all while giving back!  Join them on Sunday, December 8th for their annual 5K road race/walk and Kids' 1K Fun Run!  Funds raised will help provide year-round training and competition for 11,000 Special Olympics Athletes in Massachusetts!  After the race there will be a VIP Reception with music, awards, raffles, prizes, and different food from some of the best restaurants on the North Shore!  If you're interested in participating make sure you register by Friday, December 6th at 9 AM!
Helping Paws for the Holidays – Want to commemorate the holidays with your furry friend? Take them to get their picture with Santa and/or the Grinch at the Eagles Lodge in Lakeville!  This event takes place from December 7-8th, from 10 AM – 4 PM.  The cost is $20 and includes a photo package (includes a single pose photo burned onto a CD and pet goodie bag!)  which can be of just your pet or can include family members as well.  This fundraiser benefits police K9's Vested Interest in K9s, Inc.  This non-profit organization raises funds to purchase bullet and stab protective vests for law enforcement dogs, a great cause to support!
Boston's 7th Annual Ugly Sweater Party – We've said it before and we'll say it again; everyone loves an ugly sweater party! Don't miss Boston's biggest and longest running ugly sweater bash presented by the b Positive Project.  This event will be on Saturday, December 14th at the Hard Rock Cafe and promises to be one of the best parties of the holiday season.  There will be music from the band Classic Yellow, drink specials, pictures with Santa, prizes, and a silent auction which benefits the Leukemia and Lymphoma Society.  Tickets are $25 online and at the door but if you register by December 6th you can get them for $20!
Sleigh Full of Laughs – Join local comedians' Lenny Clarke, Dave Russo, Tony V, and others on Thursday, December 19th for this comedy event benefiting Globe Santa, the Boston Globe's annual appeal to help needy children in the Boston area.  This event is being hosted by Giggles Comedy Club at Prince Pizzeria in Saugus.  Tickets are $25 and this event is sure to leave you feeling jolly and bright just in time for the holidays!
All of these charity events benefit wonderful causes, so whichever one you go to you can't go wrong!  Plan a day out with family, friends, or even co-workers and head to one of these fun events!
Photo By: freedigitalphotos.net