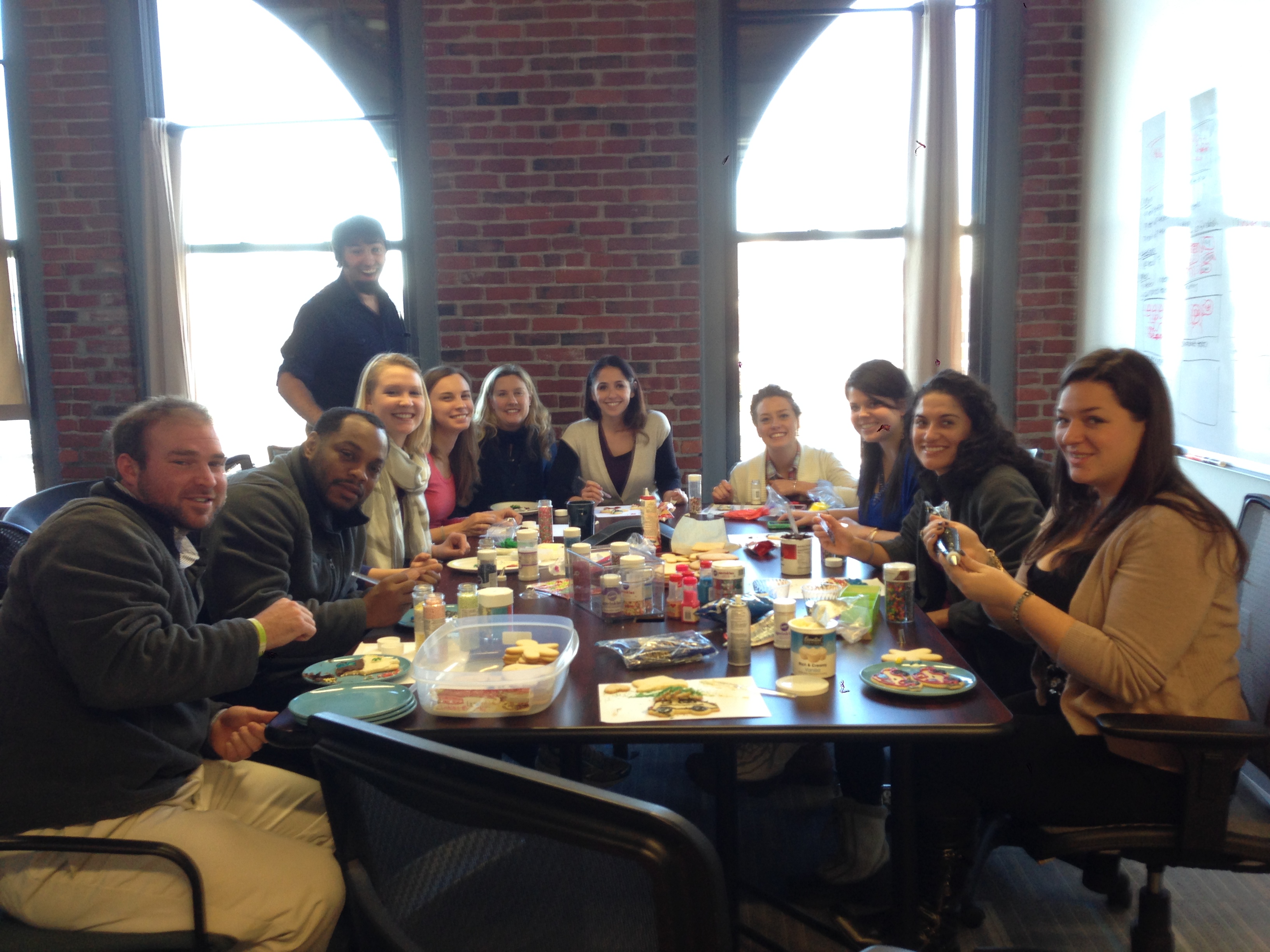 When it comes to competition, we take it very seriously over here at MassDrive, and this week we had a great idea to spice up the holiday season!  We were inspired by the holiday gifts our friends at Plymouth Rock Assurance sent us; three cookie cutters meant to represent their offerings, a gingerbread man (life insurance), a car (auto insurance), and a house (homeowners insurance).  After we got those, it didn't take long for us to come up with the idea for a cookie decorating contest between the Boston and Phoenix offices!
Each team had to use the cutters provided, and the only other rule was to be as creative as possible!  Both offices are full of creative minds so we all knew competition would be stiff, but of course before we could begin decorating we needed the actual cookies.  Luckily we had two gracious volunteers from each office offer to bake some for everyone.
As we've said before, MassDrive is not your typical insurance company, and the cookie creations both offices came up with is further proof of that.  We have incredibly creative employees working in both offices, and a true team effort turned a simple cookie contest into two impressive masterpieces in their own right.  Each office combined the decorating talents of each employee to create a full on holiday scene.
To keep things fair, our California office and a few remote employees served as impartial judges.  Since both offices created amazing cookies, we know this may have been the toughest job of all.
Phoenix creative an amazing holiday village scene complete with insurance themed touches including "Renters Row", "Auto Ave", "Pet Protection Parkway", and even a "NGI University" building!  The judges loves the variety of ingredients used as decorations, especially the pretzel windows which gave the cookies an appealing salty & sweet quality.  The judges also loved the creativity of incorporating insurance aspects into the holiday village.
In Boston, we came up with the idea to create a stop-animation video using our cookies to illustrate the dangers of distracted driving.  The whole office enjoyed creating it, we worked together to come up with a story board, figured out exactly how many cookies we would need for our video, and had our talented crew begin decorating.  We then used the Stop Motion App to create the video, which was awesome because it was free and very user-friendly.  What resulted was a distracted driving awareness video that impressed the judges, and even the competition in Phoenix!  The judges thought that the i-Phone cookie with an incoming message was the most creative cookie, and also thought that the cookies had the "perfect amount of icing".
After both teams had finished, we had a company conference call to announce the results.  Both offices went into the call without ever seeing what the other team had created, and hearing all the different reactions from each other may have been the most entertaining part of the contest.  Even though both teams did an amazing job, the judges unanimously agreed that Boston was the winner.  What do you think?  Do you agree with the judges?