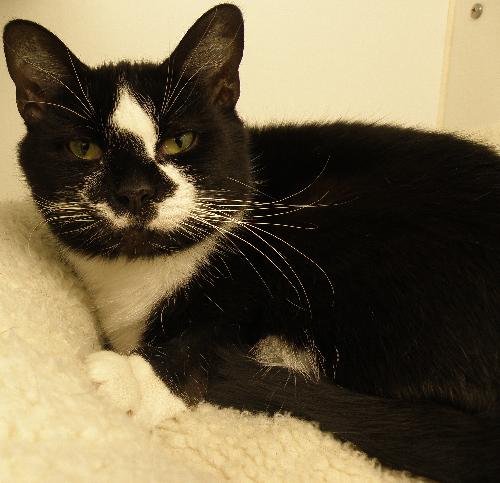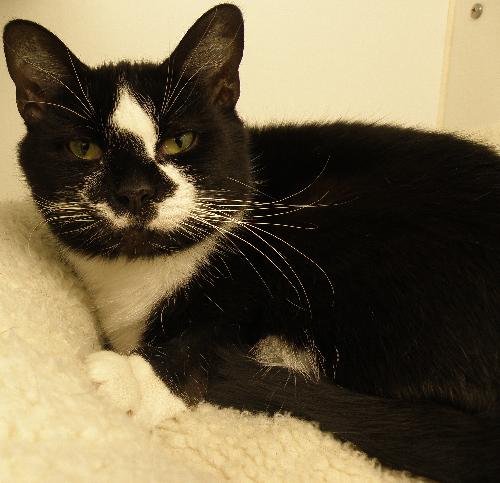 After yesterdays storm, Snowflake seemed like the perfect candidate for today's Furry Friend Friday interview, the markings on her face even make it look like she stuck her nose in a pile of snow!  This pretty girl has been up for adoption at the Sterling Animal Shelter since November 18th and is ready to find a forever home just in time for the New Year!
Snowflake, what's you favorite way to spend the day?
Well I'm a very playful kitty, even though I'm 4 years old I can be just as playful as a kitten sometimes!  I also love being around humans in general, the staff here at the shelter always comment on how friendly and outgoing I am!  Can you believe I haven't found a home yet?
Do you have a favorite toy to play with?
I love all toys but I'd have to say my favorites are the crinkly balls, I'm not exactly sure what they're called but they have some crinkly foil around them and they keep me mesmerized!
What are some of your other favorite things?
I can't get enough treats!  I love to snack and will meow and meow until I get you to give me a treat, it doesn't usually take too long considering how cute I am!
Is there anything you're afraid of?
I can't think of anything that comes to mind, I'm not very skittish at all, I like to think of myself as a pretty tough girl.
What do you think would be the perfect family for you?
I could fit in anywhere I think.  I'm a very friendly girl and I can't imagine anyone not liking me, can you?  Kids would love me because I'm so friendly and playful, I still like to run around like a kitten but have the smarts and maturity of an adult.
Snowflake, why do you think pet insurance would be a good investment for all pet parents to consider?
Well sometimes us shelter pets can have a rough start in life, I was pretty lucky but some of my friends here weren't.  We'd like to think that once we find our forever homes we will never have another worry again, and pet insurance seems like it could help with that!
Snowflake is right, unfortunately not all pets get the best start in life, but once they find their forever families, they get a chance to start fresh and find a home that welcomes and loves them as the furry friends they are.  As part of their new start in life, it's a good idea for pet parents to consider purchasing pet insurance.  It's surprisingly affordable and can really save the day (and your wallet) should any unexpected accidents occur.  Give us a call today and talk to one of our agents for a free quote!