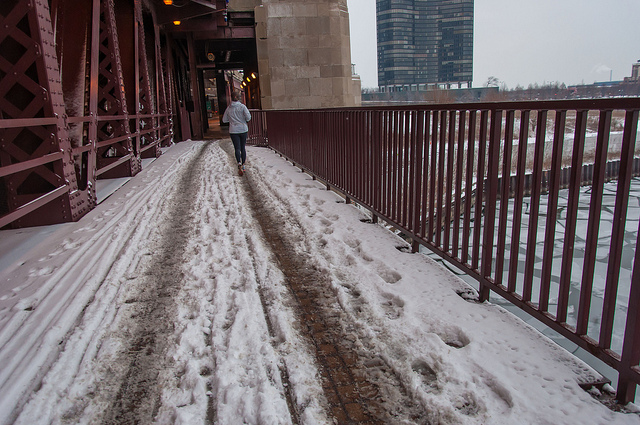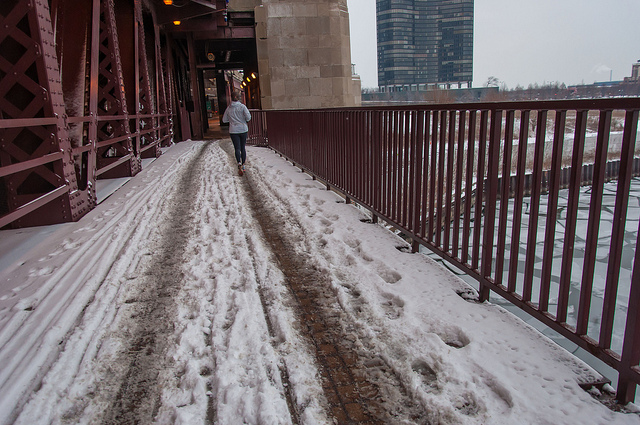 Despite the bitter cold and early onset of darkness, there are still some dedicated walkers and runners venturing outdoors for their workout.  Even though working out tends to take a back seat during the colder months, it's still a good idea to stay active and work off all of those holiday goodies.  For those of you that want to avoid crowded gyms and would rather exercise outside, keep these tips in mind and stay safe!
Go during the day if at all possible.  Obviously this isn't possible for everyone, but if you have the chance to workout during the day, take it.  Not only will the sun warm you up a bit, you'll also be visible to drivers which makes running or walking much safer.
Make sure you're visible.  Running or walking at night can be extremely dangerous, and it gets dark much earlier this time of year so it's harder to get out during the day.  If you do have to be out in the dark, make sure that cars and other pedestrians can see you.  That means a lot of reflective material on your clothing and a headlamp or flashlight.
Find a route with a sidewalk.  This will make your route much safer if you're not directly on the road.  If you must walk on the road, make sure you are always walking facing oncoming traffic.
Stay warm.  It's important to bundle up and wear multiple layers in the bitter cold, and don't forget gloves!  It may be wise to shorten your typical route if the windchill is extremely cold.
Watch the weather!  If temperatures are supposed to drop significantly, if roads are icy, or if it's supposed to snow, it's probably a good idea to stay indoors.
Stay hydrated.  Just because it's cold out and you're sweating less doesn't mean you don't need to drink water.  Hydrate before and after your workout if you don't want to carry a water bottle during your run or walk.
Get shoes with traction.  Many athletic stores carry shoes specifically made for winter, and have tougher soles meant to brave the snow and ice.  You can also purchase products that slip over your shoes to provide traction, YakTrax are a great option.  Whichever item you would prefer, it's important to have proper shoes for walks or runs in the winter months.
Keep shoes dry.  If your shoes get wet on your walk or run, it can be extremely dangerous.  The air is already cold enough, and if shoes get wet enough to soak your feet, it's a recipe for frostbite.  Watch the weather and make sure it's not going to rain or snow during your workout, it might also be a good idea to drive your route before running it and make sure there isn't snow blocking sidewalks or creating obstacles that you would have to trek through.
Now, who's ready to run?  Keep these tips in mind before venturing outside to work out, temperatures can drop quickly and it's important to stay safe and avoid injuries, happy running!
Photo By: bradhoc