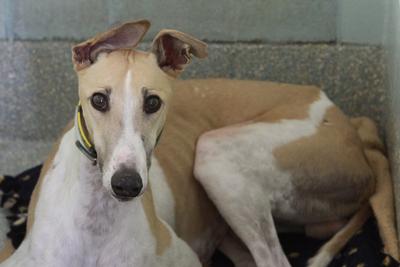 We're back with another Furry Friend Friday interview, and today we got to chat with Wolf!  No he's not a real wolf, he's actually a 4 year-old greyhound up for adoption at Greyhound Friends, Inc. in Hopkinton.  This handsome boy has been in the shelter for a few weeks and would love for you to stop by and visit him!
So Wolf, I hear you're not originally from Massachusetts, is that correct?
Yes, you're very right!  I'm originally from Florida, it's much warmer down there but I'm happy to be in Massachusetts and am ready to start my new life!
What's your favorite way to spend the day?
I'm a very laid back guy, I enjoy the simple things.  All I really need to have fun is a warm bed, one of my people petting me, and a treat or two of course!  My perfect day would consist of a long nap, a walk, and then cuddles for the rest of the day, I love being around people!
Do you have a favorite treat?
I'll take anything I can get!  I'm a real foodie and love trying new things, so anything you have for me I'll be more than happy to sample.
Is there anything that scares you?
I'm not really a fan of loud noises, like thunder or fireworks.  They make me a bit jumpy, but as long as I have someone to pet me and make me feel better I'll be fine.
What do you think would be the perfect family for you?
Well since I love to be around people, I would enjoy going to a home where someone is around a lot.  If you work from home that would be perfect, I've been told I'm a very good computer helper!  I can get along with anyone, I'm a very nice guy and they say that greyhounds are the best of both worlds, meaning we can either be active or just lay around all day.  I'm definitely on the calmer side, but I still have a spring in my step and like a nice walk.  If you think I could be your new best friend stop by and say hi!
Wolf, why do you think pet insurance is a good think for all pet parents to consider?
Well, pets don't plan on getting hurt or sick (Then again, who does?), but it still happens.  It seems like pet insurance is a good way to make sure you can get your pet the vet care they need if they unexpectedly get sick or have an accident.
We couldn't have put it any better ourselves.  No one plans on getting sick or hurt, and pets should be covered for these situations just like the rest of your family is.  Pet insurance is an affordable investment that will ensure your pet gets proper vet care should they need it.  Call one of our agents today for a free pet insurance quote and take the first step in protecting your furry friend for life!