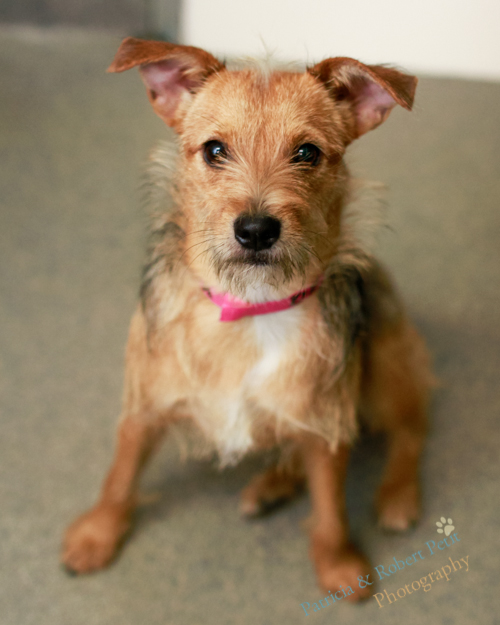 We're back with your weekly dose of cuteness!  Today's Furry Friend Friday interview features Yara, a 7 month-old terrier mix up for adoption at the Sterling Animal Shelter.  This little girl is ready to be your new best friend, stop by and pay her a visit!
So Yara, I heard that you came a very long way to find your forever family, is this true?
Yes, you're right!  I came all the way from Puerto Rico to be here, and so far I'm loving it here!  If it's this nice here at a shelter, I can't even imagine how nice it will be once I find a home of my own.
So what will  be your favorite way to spend the day once you do find your forever family?
I love playing!  Whether it's outside, inside with my toys, or with my favorite people, I just love to be on the move doing something fun.  I'm still just a puppy so I have a lot of energy to burn!  Once I do get tired out after some playing, I'd love to curl up next to my favorite humans and get pets and treats.  Who wouldn't love a day like that?
Do you have a favorite toy to play with?
I have so many options here at the shelter, it's hard to choose!  Not a bad problem to have, am I right?  If I had to choose I would say the stuffed squeaky toys, I can't get enough of those.
Is there anything that scares you?
Nope, not at all!  I'm a very brave little girl and in my short time I've already experienced a cross-country move!  I'm really good at cuddles though if you get scared, and I'm a great watch dog so if you're scared I'm sure I can make you feel safe.
What do you think would be the perfect family for you?
Well, since I am so high-energy, I would do best in a home where I can get a lot of exercise!  Also, as I am still a puppy, I still have a lot to learn!  I would need to go to a family that would have patience with me and bring me to a puppy training course so that I could work on my manners.  I also want to be the baby and get all of the attention, so I would do best in a home without small children and where I can be the only pet.
Yara, why do you think pet insurance is a good thing for all pet parents to consider?
Well, even as a young pup I've already had to go to the vet a few times!  Just for typical stuff, shots, getting spayed, things like that, but I saw a lot of my fellow canine friends there too and not all of them were as lucky.  Some pups get very sick or even have accidents where they get hurt, and the vet bills for that can really add up!  Pet insurance seems like a good way to make sure you can pay for any unexpected vet bills that may come up.
We couldn't have said it better ourselves, call one of our agents today for a free pet insurance quote and take the first step in protecting your furry friend's future.