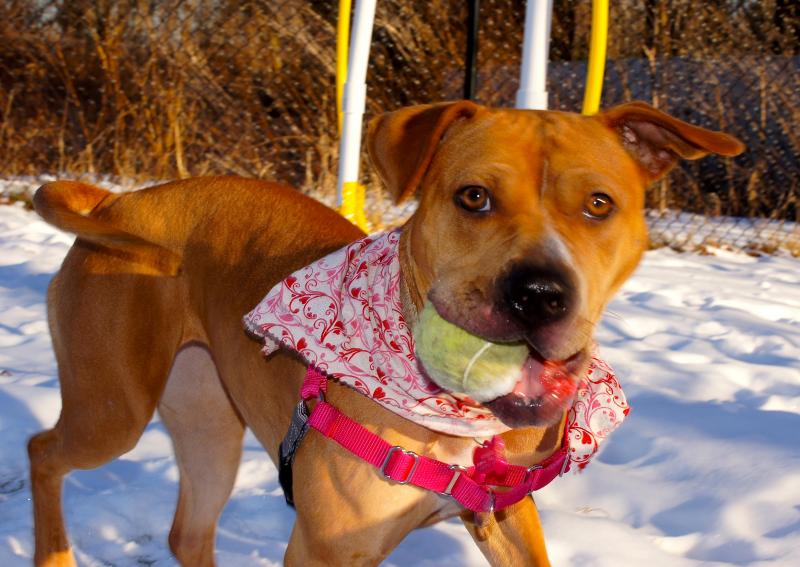 Happy Furry Friend Friday!  Meet Bella, this little girl is is far too cute to be sitting in a shelter, she's ready to find her forever family.  She's a 1 year-old pup up for adoption at the Scituate Animal Shelter so stop by and pay her a visit, she'd love to be your new best friend!
So Bella, what's your favorite way to spend the day?
I love being outside playing, I can run and run and run!  I'm a very active girl, seeing as I'm still considered a puppy, so if you love to play we'd make a great team!  I love playing with other dogs too, but sometimes I can play a little too rough for some of them, especially if they're smaller than me.  I'm very friendly when it comes to people too, and all I want is to find someone to go on long walks with and to throw me a ball every now and then, is that so much to ask for?
Do you have a favorite treat?
Funny that you mention that, I actually am on a special diet, and no it's not because I'm watching my weight, I'm 40 pounds of all muscle!  I'm a pit bull terrier and shar pei mix, and I have shar pei skin which is extra sensitive and is allergic to grains.  Basically I'm on a grain-free diet, it's not a big deal, I just can't have any old treat so when I want a snack I get pieces of my special kibble.
Is there anything that scares you?
Nope, nothing I can think of!  I've been a very lucky girl and haven't encountered anything too scary in my days, I just get nervous sometimes that I won't find my forever family, but I never lose hope!
Bella, what do you think would  be the perfect family for you?
I think I'm a very lovable girl if I do say so myself, and I would be happy to go anywhere, I'm not picky!  My only request is to go with a family that would be able to give me regular exercise so I can burn off all of my energy!  It would probably be best if I were the only pet in the home as well and if I were with children ages 8 and older, not because I don't like little kids, but because I'm still one myself and sometimes forget my own size and strength.  I wouldn't want to knock someone down because  I got too excited and wanted to play.
Why do you think pet insurance is a good thing for all pet parents to consider?
I mean I know I'm still young and have a lot to learn, but from what I've seen so far pet insurance seems like it can only help out in a tough situation.  Isn't it better to be safe than sorry when it comes to your furry friends?  After all, we think of you as family so we hope you think the same of us!
Bella's right, anyone that has owned and loved their pet does consider them family, so they should be protected like it!  Pet insurance is an affordable way to make sure if your pet needs emergency vet care, they have access to it, without breaking the bank!  Call one of our agents today for a free pet insurance quote and take the first step in protecting your furry friend!