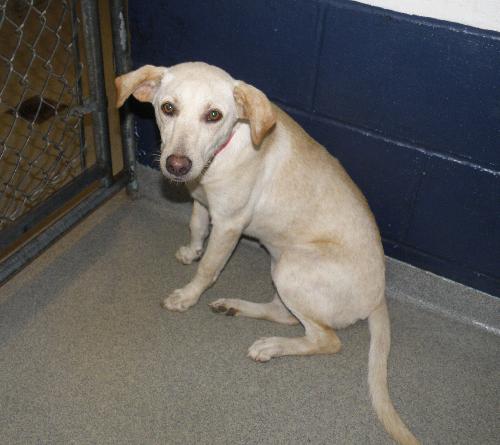 Happy Furry Friend Friday!  We're back with another interview, and today we're chatting with Bianca.  Such a pretty name for such a pretty girl, are we right?  This little girl is only 5 months old and has already been in the shelter for a whole month!  Do you have room in your heart and your home for this cute little lab mix? She's up for adoption at the Sterling Animal Shelter, stop by and pay her a visit!
So Bianca, I heard that you came a long way to find your forever home, is that right?
Yes!  I'm originally from Puerto Rico if you can believe it.  I was born in a park there, my mom was a stray and did her best to take care of me and my siblings but eventually a recuse group found us and decided to give us a second chance! So now I'm here, and so far I'm loving Massachusetts but I can't wait to see more of it.  I hope my new family brings me on lots of fun adventures!
What's your favorite way to spend the day here?
I love to play!  Whether it's with toys, other dogs, or people, I'm a very playful pup and love to have fun.  I love playing with squeaky toys a lot, and at the shelter we have tons of options to choose from!  How lucky is that?  I also love being petted and cuddling with my favorite people.
Is there anything that scares you?
Nothing comes to mind, being out on the streets was pretty scary but I know that will never happen again.  I'm mainly just excited to find a forever family, it's hard to be scared when you have so much to look forward to!
What do you think would be the perfect family for you?
When I say I can really go anywhere, I mean it!  I'm super friendly and get along with people of all ages, and even other dogs!  I haven't really been around small animals like cats, so I'm not sure how I would do with them.  The only thing I would really need is to go somewhere that I can be active.  I love going for runs, playing outside, and seeing new things.
Bianca, why do you think pet insurance is a good thing for all pet parents to consider?
Well in Puerto Rico I saw a lot of things, and us pets don't always have it easy.  Accidents can happen, we can eat something that smells really good but is actually bad for us, and then next thing we know we're at the vet's office, which is never fun for humans or pets.  Even though we don't intend to end up at the vet's, it happens, but pet insurance makes sure that we can get the care we need and you won't have to drain your savings account to do it!
Bianca's right! Pets don't intend to wind up in the vet's office, but sometimes it can happen whether they like it or not.  Pet insurance is a great way to make sure they get the treatment they need without you having to break the bank.  Call one of our agents today for a free pet insurance quote and see how affordable it can be to protect your furry friend!