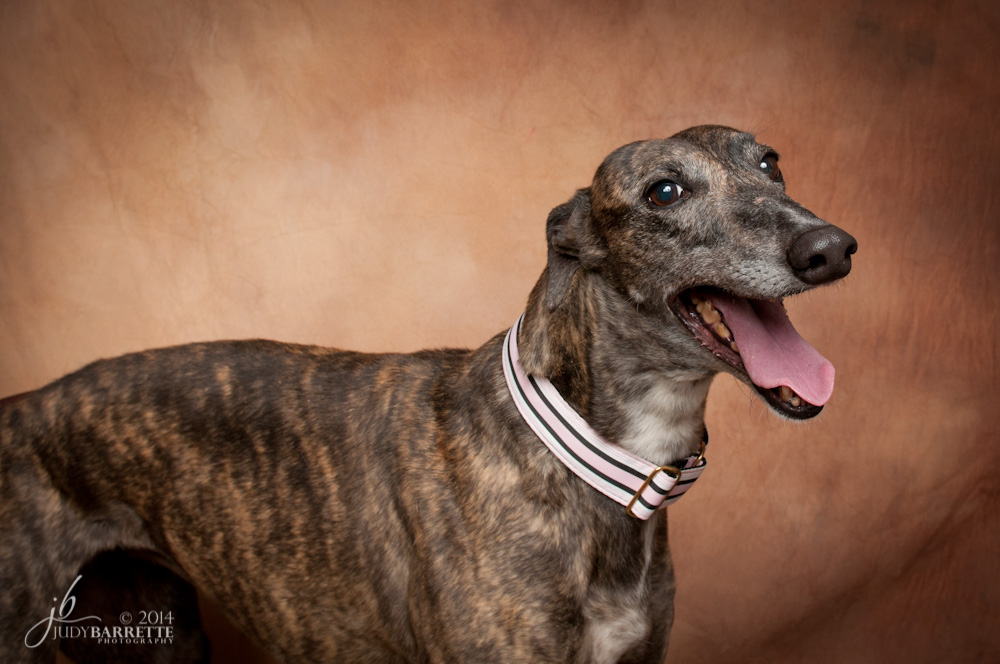 Happy Furry Friend Friday!  Today we have a very special guest, a 7-year-old greyhound girl named Skul.  We know, kind of an intimidating name for such a sweet girl, but trust us when we say there's nothing scary about her!  She's currently up for adoption at Greyhound Friends, Inc in Hopkinton and would love for you to pay her a visit!
So Skul, I hear that you're not originally from Massachusetts, is that right?
Yes!  In fact, I'm a mid-western girl, I came all the way from Kansas!  It's very different out here, there are so many new things to try and see and so far I'm loving it!  I'm so excited to be here and hopefully find my forever family soon!
What's your favorite way to spend the day?
I love being outside, we have a fenced in yard that I can run around in, and I get  to play with the other dogs and toys here!  I'm very lucky, and after all that I love being around the people here, they're so nice and love to pet me!
Do you have a favorite toy to play with?
It's hard to choose when there are so many options!  If I really have to choose though, I'd say my favorite types of toys are the squeaky, stuffed animal ones.  What dog doesn't like those?
Is there anything that scares you?
I'd say I'm a pretty self-confident dog, there's really not much that gets to me except for loud traffic noises.  You know, like horns, sirens, things like that.  Coming from Kansas, I'm not used to hearing those things so often, so sometimes they make me jump a little.
What do you think would  be the perfect family for you?
I really am a people lover, and I would be good with all ages and types of them!  I'm even great with other dogs, not sure about cats yet though.  My only request is to have a fenced-in yard so I can be free to run around as I please.  Even though I'm 7, I'm still a fairly active girl but not overwhelming.  I would just love to find a family that wants me as one of their own, I hope it happens soon because I'm great on walks and the best snuggler you'll ever meet!
So Skul, why do you think pet insurance is a good thing for all pet parents to consider?
Well, pets can get hurt just like people can, and our doctor's office can be just as expensive as yours!  Pet insurance seems like a smart way to make sure you don't have to pay a giant vet bill if your pet were to ever unexpectedly get sick or hurt, and lets face it, are those things ever expected?  No, they're not, but with pet insurance at least you can be prepared for them!
Skul's right, if your pet gets sick or has an accident, you never see it coming, but with pet insurance you can be prepared for these things.  It's a great way to make sure your furry friend can get exactly what they need without you having to worry how much it will cost.  Call one of our agents today for a free pet insurance quote!