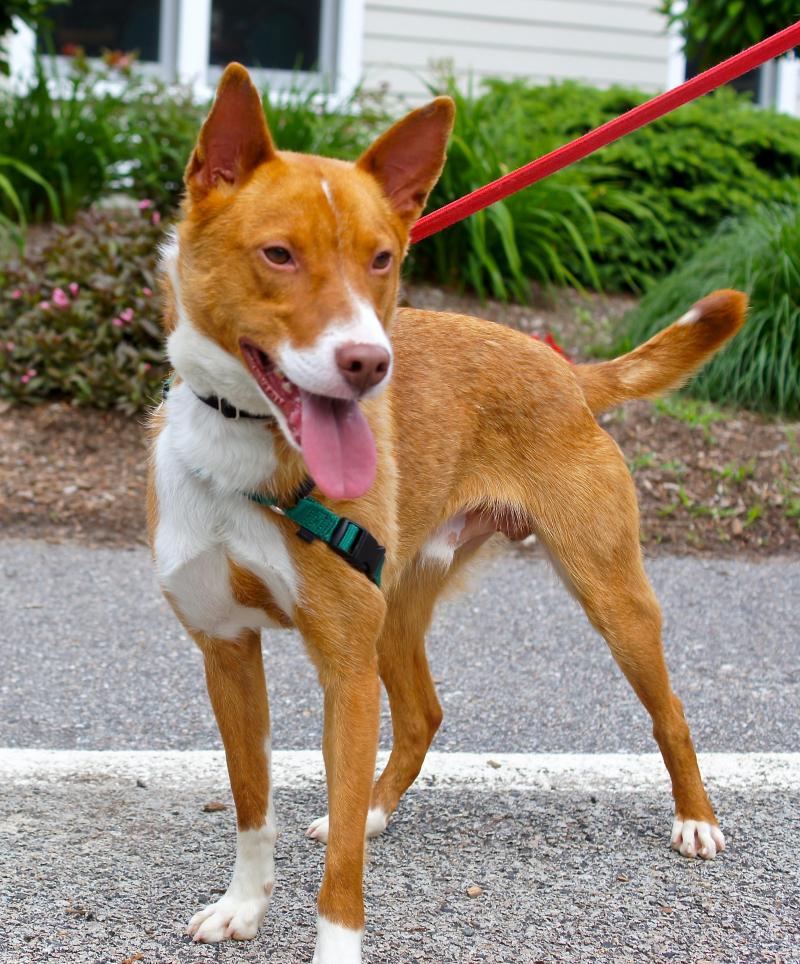 Faster than the speed of light, the star of today's Furry Friend Friday interview has a name that certainly suits him!  Meet Flash, and okay maybe he's not faster than the speed of light, but he certainly has some wheels on him!  This playful pup is up for adoption at the Scituate Animal Shelter and is about 1 year-old.
So Flash, you have a very unique look to you, what kind of dog are you exactly?
Why thank you, I'm a Podengo Portugueso, and this was actually the first year that we were recognized as a breed by the American Kennel Club!
So what do you like to do all day?
Well I'm still a pup, and us Podengo Portugueso's are known for our high energy levels, so the combination of those two factors means I'm very active!  I have a lot of energy to burn so I really like to go for long walks and run around, I can't be off leash though because I have a very strong prey drive and will chase anything I see, like rabbits and squirrels.  I also love to play in fenced-in yards so that I can play fetch!  I love people too, although I'm not much of a snuggler I have to admit.
Do you have a favorite toy?
It's hard to choose, but since I love to chase things I'd have to say either a frisbee or a ball that I could run after over and over again.
Is there anything that scares you?
Nope!  I'm happy to report that I'm a very brave guy, and I can't really think of anything that would scare me or make me nervous.  Maybe it's because my breed is known for our ability to chase things down, we have to bravely run into unknown situations so I can't be afraid of loud noises or things that might scare your typical dog.
What do you think would be the perfect family for you?
Well, I'd need to be with a family that is just as active as me, and that can bring me for lots of walks and spend time playing with me.  I would also need to go with a family that would be patient with me, as I am still a puppy and need help with my training right now.  I think I would really benefit from some puppy training classes, lots of love, and positive reinforcement!  Other than that, because I'm so active and have a tendency to jump, I could only go to a home with older kids ages 10 and up, it's not that I don't like little kids, I just wouldn't want to accidentally knock them down and hurt or scare them.  When it comes to other pets, no cats because I would chase them all the time!  I get along with most dogs though as long as I can meet them and get to know them first.
So Flash, why do you think pet insurance is a good thing for all pet parents to consider?
Well lucky for me, I haven't had an instance where I've gotten sick or had any type of accident that's brought me to the vet, but not all pets are as lucky.  Every day pets swallow keys, eat a chocolate bar, or come down with some sickness that needs the vet's attention, and those guys aren't cheap!  From what I know of the vet's office, it's a scary place for pets and people!  Scary for us because come on, who actually likes the doctor's office?  And it's scary for people because it can be pretty expensive, plus we know you're also nervous for your furry friends.  It seems like pet insurance is a good way to make sure the vet's office doesn't have to be as scary, at least not for you.
Flash is a very smart boy!  He knows that no one likes the vet, neither pets or people.  Pet insurance is an easy way to make sure your furry friend, and your wallet are protected.  Call one of our agents today for a free pet insurance quote and take the first step in protecting your furry friend!