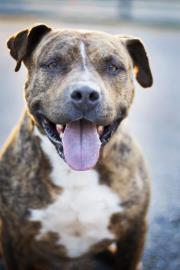 It's our favorite time of the week, and not just because it's Friday, but because it's Furry Friend Friday!  Today we got to chat with Keeno, a handsome guy who's up for adoption at the Lowell Humane Society.  He's a mastiff mix and is about 7 years-old, he's been at the shelter since March, so he is definitely overdue to find his forever family!
So Keeno, how did you end up at the shelter?
It's kind of a long story, but basically I was in New York and was found tied up outside as a stray, and then I was brought here, and was found as a stray again!  It's been a rough road and I've been bounced around a lot, but I'm really hopefully that my new family will be my forever family!
What's your favorite way to spend the day?
Well I really love to cuddle and be around my favorite people, I follow them around and sit at their feet whenever I can!  If you sat on the floor, I'd probably try and sit on your lap as well, I know I'm a big boy but I'm still a baby at heart.  I also like to go for short walks, I used to be more active but I've been on a restricted activity level due to a recent knee surgery.
Knee surgery? That doesn't sound fun at all, what was wrong with it?
I had a chipped bone in my patella, I'm on the road to recovery, but I still need people to be patient with me while I recover.  I need to walk slow and have plenty of rest, I also need more mental stimulation like games and maybe even some kong toys filled with peanut butter!
Do you have a favorite toy that you like to play with?
I really love all types of chew toys, and now that I can't move around as much I spend a lot of time playing with them!
Is there anything that scares you?
Nothing comes to mind really, I'm a pretty tough boy, can't you tell?  I've seen a lot in my days and nothing really made me nervous.
What do you think would be the perfect family for you?
Well I'd definitely need to be the only pet, I want all of the attention for myself!  Other than that, I'd need to go with a family that will be patient with me during my recovery, which should only last another month or so.  I'd also like to go with a family that would take me on long walks and even hikes once I've recovered fully.
So Keeno, why do you think pet insurance is a good thing for all pet parents to consider?
Well look at me for example, my surgery would have been very expensive to pay for!  Luckily the shelter and some very generous people were able to cover it, but if I had an owner who didn't have pet insurance, my surgery would have taken a major chunk out of their savings account!
Keeno is a perfect example of why all pet owners should consider investing in pet insurance.  Call one of our agents for a free pet insurance quote today and take the first step in protecting your furry friend!