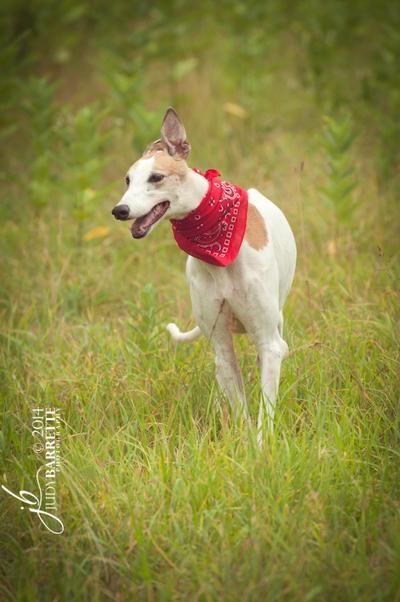 Have you ever seen a face this cute? Meet Dobson, an 8 year-old greyhound girl up for adoption at Greyhound Friends, Inc in Hopkinton!  She's today's special guest for Furry Friend Friday and is very excited for her moment in the spotlight.  This sweet girl has spent years as a racing dog and a breeder, so she's ready to relax and be pampered by her forever family!
So Dobson, what's your favorite way to spend the day?
Well, I am getting a little older, and I've done a lot in my life so now I mainly like to relax and be around people.  I love being petted and cuddling with my people, but I still enjoy going out for walks every day.  Even though I'm getting on in my years, I still have a lot of life left and love to give!
Do you have a favorite toy?
I actually don't play with toys too often, but I do have a blanket that I really love!  I like laying on it during the day, it's so warm and comfy I feel snug as a bug in a rug when I curl up on it.
Is there anything that scares you?
I'd say loud noises tend to make me nervous some times.  We've been having a lot of thunder storms this summer, and the loud thunder can get to me.  I'm sure it won't be as scary once I find a forever family that can cuddle with me when a storm is on its way though.
What do you think would be the perfect family for you?
Well I'm really easy to get along with, just ask anyone here at the shelter!  If I could choose my perfect family though, I would choose to go with a family that loves to cuddle and relax but would still bring me for walks every day.  They wouldn't have to be very long walks, just some time for me to get outside and sniff around while getting some fresh air.  I'm very mild-mannered and can be shy at first, but I know the right family will just fall in love with me.  I'm great with other dogs and would be fine with grade-school age kids as long as they were dog-savvy and didn't pull on my ears or tail.  I'm an all around love bug and am ready to go to my forever home!
Dobson, why do you think pet insurance is a good thing for all pet parents to consider?
Well, all pets need to go to the vet for one thing or another throughout their life, so having pet insurance seems like a good way to make sure your pet can get the vet care they need without you having to max out your credit cards.
Dobson is as smart as she is cute!  Pet insurance is an affordable way to protect your pet like a member of the family, because pets are a part of the family after all!  Call one of our agents for a free pet insurance quote today and take the first step to protect your furry friend!