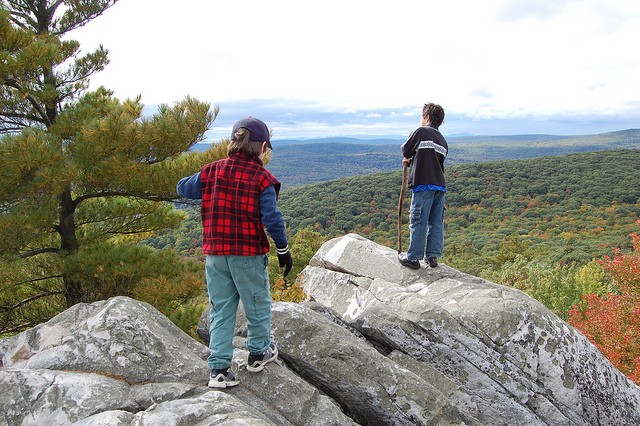 Hiking is a fun way to get some exercise, smell the fresh air, and see something new.  Here in the Bay State, we're lucky that we have so many great trails to visit, but it can be hard to know which ones to choose, which is why we've come up with this list of the best spots to go hiking in Massachusetts!
Blue Hills Reservation – Located only a few miles from Boston, the Blue Hills Reservation in Milton offers visitors 125 miles of trails to explore.  There are a variety of plants and wildlife that you may see on your hike, along with historic structures, ponds, swamps, and much more.  Once you reach the rocky mountain summit you'll see a beautiful view of the Boston skyline in the distance, the perfect spot to rest and take in the sights of the city while also enjoying the seclusion of nature.
Cape Cod National Seashore – When you think of hiking, you may not typically picture hiking on the beach, but the Cape Cod National Seashore is one of the best places to visit if you want to get some exercise in the great outdoors.  There are forty miles of beaches, marshes, ponds, and more that feature different kinds of wildlife, lighthouses, cranberry bogs, and beautiful views of the coast.  There are trails for both biking and walking, and two visitors centers, one located in Eastham, which is open year-round,  and one Provincetown that is open seasonally.  If you're in the area trust us when we say you won't want to miss a chance to hike this local treasure.
Harold Parker State Forest – This forest has so much to offer to its visitors.  It spans across Andover, North Andover, North Reading, and Middleton but the park headquarters are located in North Andover.  Guests can explore 35 miles of trails, go hiking, mountain biking, fishing, horseback riding, hunting, camping, or pack a lunch and enjoy a nice picnic!  There's something for everyone here, so we're sure you won't be bored!  There are also 11 ponds within the forest, all of which allow non-motorized boating.  The forest itself is comprised of over 3,000 acres, so if you're looking for a secluded trail to enjoy a quiet hike you're in luck.
Mount Greylock State Reservation – Located in the Berkshires of Western Massachusetts, Mount Greylock is the highest point in Massachusetts!  At the top you can see stunning views of up to 60-90 miles away!  If hiking to the top might be too strenuous or take too long, there are roads that you can drive up and shorter hiking trails leading off of the road.  Access to the park itself is free but there is a parking fee of $2 for Massachusetts residents and $4 for non-residents, so make sure you have a bit of cash on hand when you go.  If you've never been to Mount Greylock we highly recommend making the trip just for the spectacular views alone!
So, have any of these spots peaked your interest?  We hope you'll take advantage of these hiking spots at some point, they're too beautiful to miss out on!
Photo By: Massachusetts Office Of Travel & Tourism