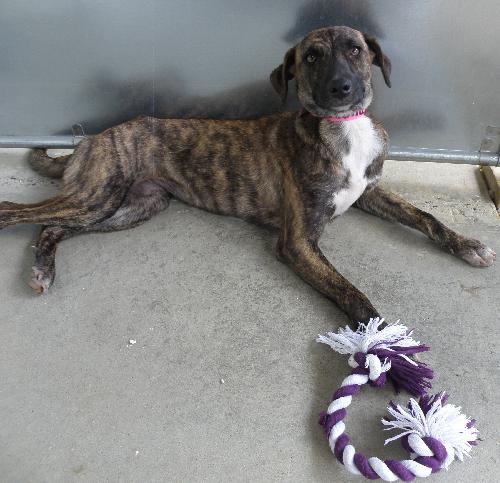 Can you think of a better way to kick off a long weekend than by reading about an adorable furry friend? Neither can we!  Today we got to chat with Barcelona, an exotic girl who's up for adoption at the Sterling Animal Shelter.  This cute girl is a 5 month-old terrier mix who traveled a long way to find her forever family!
So Barcelona, I hear you've traveled a long way to be here, where are you originally from?
You're right!  I'm actually from Puerto Rico, my name might make you think I'd be from Spain, but nope!  I just arrived here in the U.S. and I've only been in the shelter for a few days.  Everyone here is so nice but I'd really like to find a home of my own with a yard where I can run and play!
What's your favorite way to spend the day?
I really like to relax and snuggle!  Is there anything better than getting a nice belly rub at the end of the day?  I didn't think so.  I also really like to play with toys, I have a lot to choose from at the shelter so I'm very lucky!  I'm not your typical puppy though, I tend to be pretty quiet and I'm not hyperactive at all.  I would love to go to a home where my new family would pet me all day long!
Is there anything that scares you?
Not at all, I'm a very brave girl and everyone here says I've adjusted to my new life quite nicely.  I'm so grateful to have a second chance and can't wait to find my forever family!  When I was in Puerto Rico I didn't have a family of my own or a warm bed to sleep in, and those days were scary.  Now that I'm here I'm just excited to start my new life!
What do you think would be the perfect family for you?
I'm not picky at all,  I would be happy anywhere!  I love all people and am very gentle so I'd be great with kids,  having some human brothers and sisters to run around with would be awesome!  My new family would just need to be patient with me and bring me to some puppy training classes, I'm not fully trained yet so I need someone to work with me but I'm a very fast learner!
Barcelona, why do you think pet insurance is a good thing for all pet parents to consider?
Hmm, well pets get sick just like people do, and if people have insurance it only makes sense that pets would too!  From what I've heard the vet can be pretty expensive, I know I wouldn't want to be stuck with a huge bill if my friend got sick, and pet insurance seems like a good way to avoid that.
We couldn't have said it better ourselves!  Vet bills can add up quickly, and pet insurance is an affordable way to make sure your pet can get the health care they need if the situation arises.  Call one of our agents today for a free pet insurance quote and begin the process of protecting your furry friend!