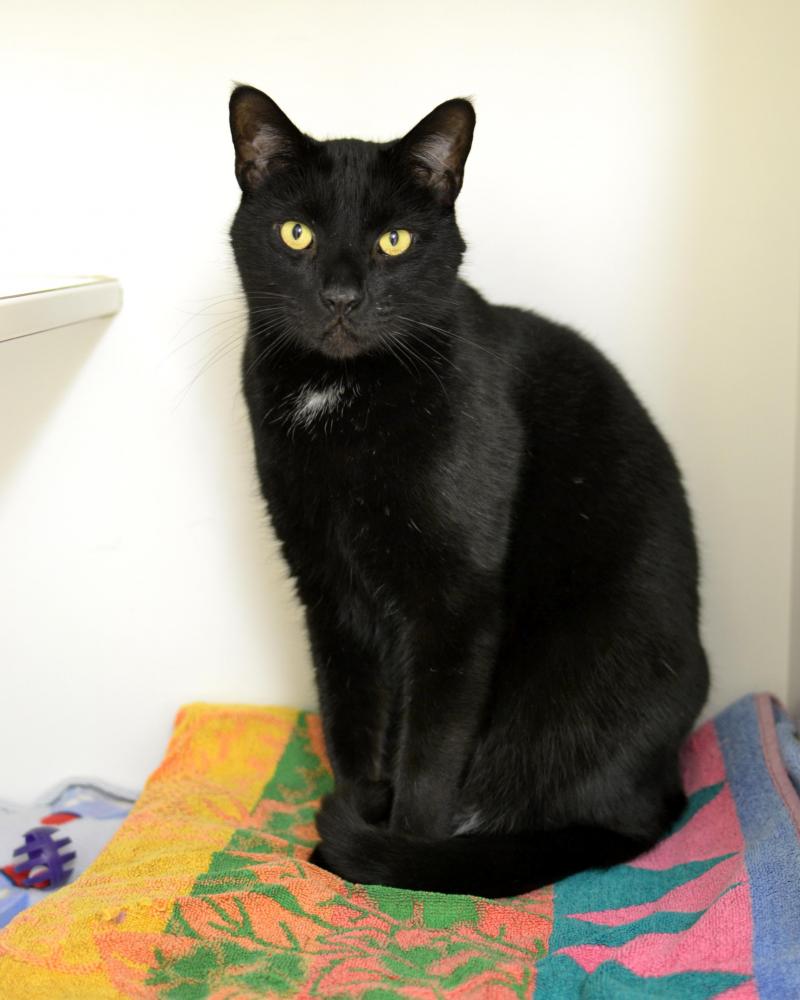 It's that time of the week, time to feature an adorable, fluffy, furry friend up for adoption in Massachusetts!  Today's special guest for Furry Friend Friday is named Bijoux, he's a 6 year-old black cat up for adoption at the Scituate Animal Shelter, and he's been there for a while now so he's overdue to find his forever family.  This little guy is a real love so if you think he looks like your new best friend be sure and pay him a visit!
So Bijoux, I understand that you've been at the shelter for a while now, how long exactly?
I've been here for three months so far, so I'm definitely ready to get out of here!  Don't get me wrong, everyone at the shelter is great, but I just want to find a place and a family that I can call mine.  Sometimes it's tougher for adult black cats to find homes, everyone wants a little kitten or thinks we're bad luck, but look at me, do I look like bad luck to you?
No not at all, you actually are quite dashing!  What does a handsome cat like you like to do all day?
I'm pretty simple really, and I like to think I'm mature for my age.  I like to lounge around like your typical cat, and when it's warm out you might find me up on the counter where it's nice and cool.  I also love being around people, that's my favorite thing, I'll run right up to visitors to greet them and let them know I'm there.  I'm social and friendly when I want to hang out, but I'm no stage 5 clinger or overly pushy, I can take a hint when someone wants their space.
Is there anything that makes you nervous?
Nothing comes to mind, unless there was a giant dog chasing after me, then I might get a little nervous but who wouldn't?  I usually get along with most dogs that I meet though, so that hasn't been an issue but if it were to happen I can imagine it would be terrifying.
What do you think would be the perfect family for you?
Not to toot my own horn but I can't get along with anyone, adults and children alike and even other cats and dogs!  I've lived with dogs before and as long as they are mellow and cat-savvy I'm sure we'll get along great!  I'm very tolerant of all the young kittens that are here in the shelter with me, they're always reaching for me and trying to play and I don't mind at all, and I used to be around children in my old home so I know I'll be fine if my future forever family has any little members.  I'm really just looking for anyone that will love me and make me their new best friend!
Bijoux, why do you think pet insurance is a good thing for all pet parents to consider?
Well I've been lucky enough to stay pretty healthy so far in life, but I know that whether it's from an accident or illness, most pets do eventually have health issues at some point.  It seems like a smart idea to have pet insurance so you don't have to pay for those costs out of pocket, from what I hear the vet can be really expensive!
Bijoux is so smart!  He understands the value of having a policy in place to protect your furry friend, because after all, they are part of the family!  Call us today for a free pet insurance quote and make sure your best friend, and your wallet are protected.