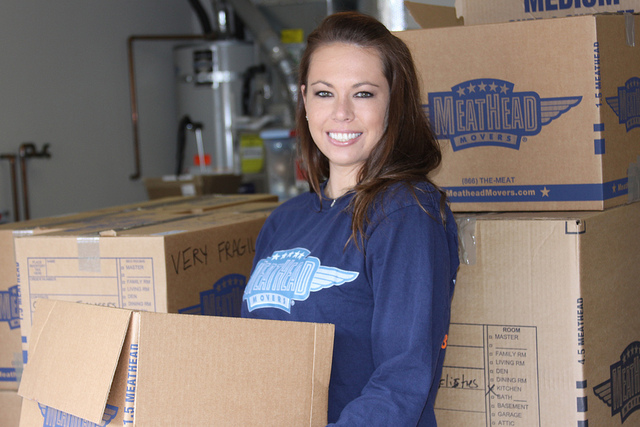 Whether you're moving into a condo, apartment, house, or dorm room, moving day can be an extremely stressful and taxing experience.  There's so much to do, packing, labeling, hauling, unpacking, there's a lot of room for error which is why we thought we'd pull together some helpful tips!
Be ready to start early!  Moving day will probably feel like one of the longest of your life, but it's important to get up early and make sure everything is packed and good to go.  You'll want to make sure everything is ready once the movers or family and friends arrive.
Map out your route and make sure that you, as well as any movers know how to get there all well.  You'll also want to make sure there's room for everyone to park and unload.
If possible, try and pre-clean your home before you move in.  That way everything will be ready to use such as the shower, toilet, etc.  You'll still have to do some cleaning after you unpack everything, there's sure to be a bit of a mess but at least you'll already have a head start!
Enlist the help of friends and family if possible.  Not only will this save money, but it may also make the process more fun! Just make sure you have everyone's tasks figured out so the process can be as seamless as possible, and that you're ready to go as soon as they arrive!
Arrange for a charity organization to come pick up any goods you're willing to donate about a week or two before the move.  Many charities will haul away furniture and other items free of charge as long as they have use for them.
Minimize the use of cardboard boxes by packing with items you already have such as suitcases, duffel bags, backpacks, etc.
Avoid packing in trash bags, they could be mistaken for trash and accidentally thrown out, and if you're using a moving service some movers have rules against moving belongings in trash bags.
When labeling boxes, label which room they're going to go in to make unpacking easier.  You'll know where to put them when you initially bring them in, and can unpack by room, which may help the whole process seem less overwhelming.  You'll also want to make sure you label boxes on the side instead of on top, that way you can still read them if the boxes are stacked.
Pack all of your valuables such as jewelry and important paperwork in a separate bag and bring them with you.  If you're using a moving service or even getting help from friends, you won't want to entrust those things to anyone but yourself.
Take an inventory of boxes and their contents, especially if you're using a moving company.  It'll come in handy if something goes missing.
Pack an overnight bag with all of the necessities you will need easy access to, such as toiletries, phone chargers, and an extra change of clothes.  You won't want to have to dig through boxes to try and find your toothbrush after a long day of moving.
If you're renting, take pictures of your cleaned out apartment when moving in and when moving out, this will make it much easier when trying to get your security deposit back and when you're dealing with landlords who want to charge you for cleaning and repair fees that may be totally unnecessary.
If you have young children or pets, arrange for a family member or babysitter to watch them during moving day, otherwise they will more than likely get in the way and be an additional stress factor.
Make sure your utilities are in order and have been set up.  You'll want your gas, electricity, and water to be working when you move in.
Reward your movers!  After a long day of hauling boxes and furniture, your movers are bound to be tired, and whether they're hired or friends and family, it's a nice gesture to have some food and drinks available.
Lastly, you'll want to make sure that your new home and all of your property is properly insured, and that's where we come in!  Whether you're renting or own a home, we can help you find the policy that's right for you, so call us today for a free quote!
We know moving will be stressful no matter how many tips you read, but hopefully these will help to minimize that and will make the day run a little bit more smoothly!
Photo By: Meathead Movers