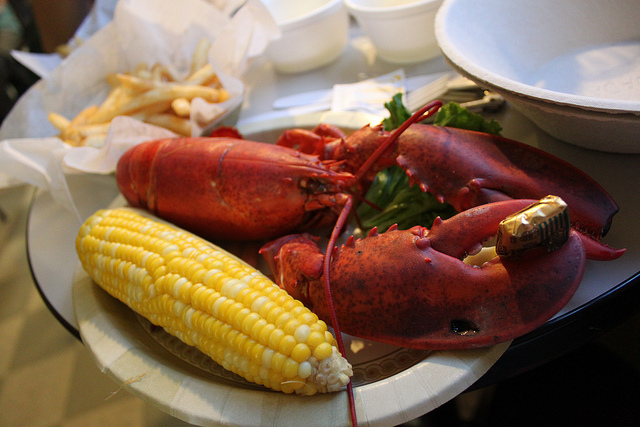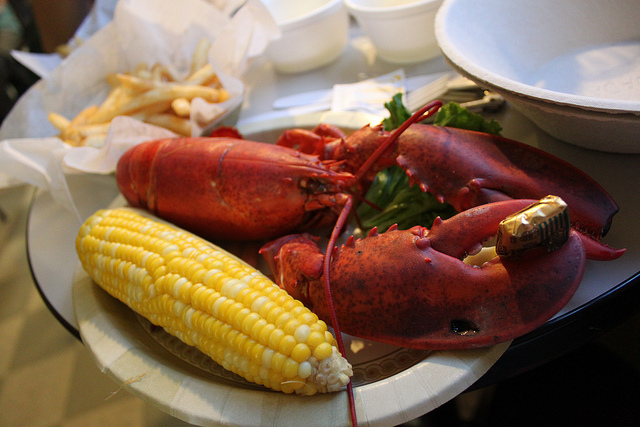 Massachusetts is well known for its tasty seafood and before you know it the peak season for it will be over!  Not to worry, it's not too late to get your seafood fix before summer closes out.  Whether you're craving some chowder, a lobster roll, or some deep fried clams these stops will leave you wanting more.
The Clam Box – The Clam Box is in Quincy located right on Wollaston Beach. A longtime favorite with locals, they have been serving up fried seafood since 1968.  They serve beer and wine and there are endless seafood options on the menu and they also offer many meat items if you want to combine some lobster with a steak for surf and turf.  They have both indoor and outdoor seating, or take your food across the street and sit on the beach which has beautiful views of the Boston skyline and Harbor Islands.  On your way home stop next door at the Ice Box and get some soft serve for dessert!
Woodman's Of Essex – This is a must try for all seafood lovers.  Woodman's opened in 1914 and in 1916 owner "Chubby" Woodman made culinary history when he invented the fried clam.  The Woodman family has yet another claim to fame, for the first time, they allowed families across New England to experience a real New England clambake by delivering the supplies and cooking right at their home.  This simplified the original "Indian" Clambake which typically took a whole day to prepare.  The restaurant is still owned and operated by the Woodman family and continues to prepare some of the most delicious seafood across the state.  They even have the awards to prove it!  With awards such as "Best Seafood in America" from Forbes FYI Magazine, "Best Local Food in MA" from Yankee Magazine, and "World's Best Fantastic Fast Food" from the Travel Channel they have definitely earned bragging rights.  They also continue to deliver and prepare traditional New England clambakes to families across New  England.  Stop by this weekend or call them up to cater your Labor Day party, they are guaranteed to be a hit!
The No Name – The No Name Restaurant is a popular stop on South Boston's Waterfront and has been in operation since 1917.  With a wide variety of menu items ranging from fried scallops to broiled swordfish, salmon, seafood chowder, fried clams, shrimp, and of course lobster there is something for everyone.  They even have a pretty impressive drink menu for those over 21.  You never know who you might see here, the No Name has had customers from across the globe, and certain famous faces such has Emeril Lagase, Tedy Bruschi, Jacoby Ellsbury, and Andy Garcia have been know to stop by.  So bring your camera and enjoy some fresh fish right on the water, it's the perfect way to spend a beautiful summer day!
The Lobster Pot – The Lobster Pot in Provincetown overlooks the harbor and is home to the award winning (Cape Cod Chowder Fest and  Boston Chowderfest) Tim's Clam Chowder.  Stop by the Top of the Pot for a cocktail or eat in one of their two waterfront dining rooms.  While seafood is what they are known for, they have a wide variety of options including Portuguese  specialties, steaks, chicken, and even vegetarian plates.  This historic town, which was the first landing place of the Pilgrims is a unique part of Cape Cod and a popular tourist destination for artists, musicians, and nature lovers.  They are open until November so there's still plenty of time to head over and enjoy a lobster roll on the water!
So, take a drive with family or friends to one of these must try seafood destinations in Massachusetts!  What better way to spend the last few days of summer than chowing down on some fried fish by the water while the sun goes down?
Photo By: iferneinez