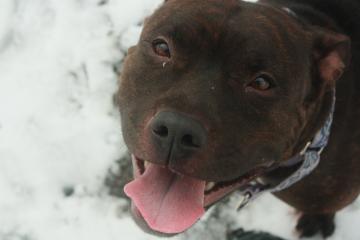 Happy Furry Friend Friday!  We're back today with a very special interview, typically we feature furry friends that are pets of our employees, but today we took a different approach.  We contacted the Lowell Humane Society to see if they had any animals that would be willing to sit down with me, and lucky enough I got to sit down with Peachie!  Peachie is a two and a half year old girl up for adoption at the Lowell Humane Society, she is house trained and very sweet!
So Peachie, what is your favorite way to spend the day?
I love going for walks!  It's my favorite thing to do and lately I have even been doing some nose work training!  I've been smelling different things and am getting better and better each day, and when I go for walks there are so many different things for me to explore.  I also love getting my belly rubbed, I am a real cuddler!
Do you have a favorite place to go for a walk?
Well usually I get to go outside in the play yard or across the street and walk along the Merrimack River, it's really beautiful but I have been here at the shelter for a while so would like to find my forever home and go on a lot more adventures!  I'm sure there must be a lot of other smells to experience out there and I have a lot of energy!
Do you have a favorite toy?
My favorite toy is my squeaky rabbit, I love the noise it makes every time I chew on it!  I also love marrow bones!  They are my favorite treat but are also kind of like a toy, I can chew on those things for hours.
As a pit bull mix you look very tough, but is there anything that scares you?
Well looks can be deceiving, even though I am a pit bull mix I am still a gentle girl, although I do have some anxiety.  I get along with most people, but sometimes certain people make me very nervous, I would never bite them but sometimes I bark at them.  I would be best off in a home where I am the only pet with adults only, because I have anxiety, other animals and kids sometimes make me nervous.
Peachie why would you recommend getting pet insurance?
Well pet insurance is always good to have just in case anything ever happens to me, or any pet.  Accidents happen and even young dogs such as myself can have issues.  I am healthy as a horse right now, but you never know what can happen in the future.  Think about it, humans have health insurance, why shouldn't pets?  We have to go to the vets just like humans go to the doctors, so why not pay a little throughout the year instead of having to pay a large fee upfront?
Peachie is a very smart girl, she realizes that pet insurance is extremely important for any pet owner!  If you're interested in getting a quote for your furry friend, call us at MassDrive!
Peachie is a very cute and unique girl, she would make a wonderful pet for a young, active adult or couple.  Peachie has been looking for her forever home for a while, would you be willing to open your heart  to a new best friend?  If you're interested in adopting Peachie contact the Lowell Humane Society.